Somebody Pick Up My Pieces (Hardcover)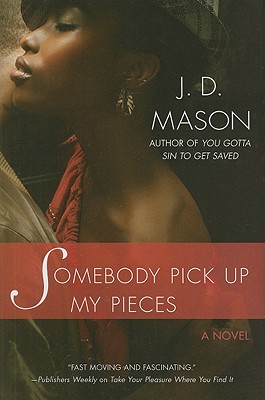 Description
---
Six months ago her three daughters walked out and left Charlotte Rodgers to fend for herself. Charlotte is resentful and bitter towards her children, Clarice, Connie, and especially Camille, for leaving her to face the memories of her painful past. What Charlotte doesn't know is that the past will soon catch up with her once again.
Justin and Clarice Braxton are struggling to hold on to their marriage. Justin's affair has taken its toll, and Clarice (Reesy) has to decide once and for all, if she can finally forgive him, and move forward, or if the lure of giving Justin a dose of his own medicine is too tempting to ignore. Camille Rodgers has lived her whole life under Charlotte's critical eye, struggling to be the perfect daughter and giving in to Charlotte's whims. When she steps out on her own for the first time, Camille quickly spirals out of control. Connie Rodgers has fallen in love with her new son and things are going strong with her son's father, John King. Then John finds out that his father is on his death bed. Unwelcome blasts from the past resurface, putting their new family to the test.
About the Author
---
J.D. MASON is the author of "Take Your Pleasure Where You Find It, That Devil's No Friend Of Mine, You Gotta Sin To Get Saved," "This Fire Down In My Soul, Don't Want No Sugar, And On The Eighth Day She Rested, and One Day I Saw A Black King." She lives in Denver, Colorado with her two children.
Praise For…
---
Praise for J.D. Mason:
"Somebody Pick Up My Pieces is a fantastic read."--RT Book Reviews
"Mason delivers with an unpredictable plot and well-drawn characters, perfectly balanced with action."--
Fresh Fiction
on
Somebody Pick Up My Pieces
 "...fast-moving and fascinating..."
Publisher's Weekly
on
Take Your Pleasure Where You Find It
"Effortlessly leaves no stone unturned in the lives of these tormented characters. Mason will take your breathe away."--Romantic Times Book Reviews on You Gotta Sin to Get Saved
"[J.D. Mason's] stark portrayals of her characters and their innermost thoughts bring the readers right into the emotional center of the story. Those who enjoy Carl Weber and Eric Jerome Dickey will add Mason to their list of favorites." –Booklist on That Devil's No Friend of Mine
"[M]asterfully told." --
Fresh Fiction
on
That Devil's No Friend of Mine