Living Language Ingles/English [With 3 CDs and Free Web Access] (Paperback)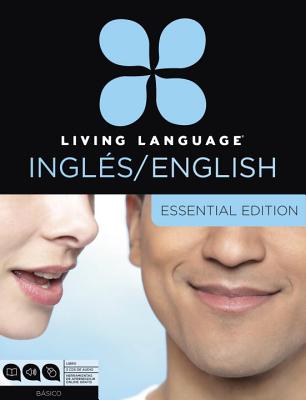 $22.99
Usually Ships in 1-5 Days
Description
---
English, Essential Edition
is a unique multimedia introduction to English for speakers of any language.
At the core of
English, Essential Edition
is the Living Language Method(TM), based on linguistic science, proven techniques, and over 65 years of experience. Our method teaches you the whole language, so you can express yourself, not just recite memorized words or scripts.
Millions have learned with Living Language(R). Now it's your turn.
-
Book:
10 lessons, additional review exercises, dialogues, culture notes, study tips, and a grammar summary
-
3 Audio CDs:
Vocabulary, dialogues, audio exercises, and more--listen while using the books or use for review on the go
-
Free Online Learning:
Flashcards, games, and interactive quizzes for each lesson at www.livinglanguage.com/languagelab
To learn more visit livinglanguage.com.
The Essential Edition
es una introduccion al Ingles unica para estudiantes de cualquier lengua nativa.
En los fundamentos de
English, Essential Edition
, se encuentra el metodo de aprendizaje Living Language Method(TM), basado en estudios linguisticos cientificos, tecnicas demostradas, y mas de 65 anos de experiencia. Nuestro metodo le ensena el idioma en su totalidad, para que pueda expresarse por usted mismo, no solamente recitar frases memorizadas o guiones.
Millones de personas han aprendido con Living Language(R). Ahora es su turno.
Libro: 10 lecciones, ejercicios de revision adicionales, dialogos, notas culturales, trucos para estudiar, y un resumen de gramatica.
3 CDs de Audio: Vocabulario, dialogos, ejercicios de audio y mucho mas--escuchelos mientras utiliza los libros o en cualquier momento para revisar lo que ha aprendido.
Herramientas de Aprendizaje Online Gratis: Tarjetas de vocabulario, juegos y cuestionarios interactivos para cada leccion en www.livinglanguage.com/languagelab

Para descubrir mas visite www.livinglanguage.com.
About the Author
---
Living Language has been a proven and effective language learning instruction for over 65 years. Using techniques originally developed for the US State Department, the Living Language Method follows a four point approach from building a foundation of essential words and phrases, advancing to full sentences and conversations, practicing with recall exercises aimed at both short and long term memory and developing practical language skills to equip the learner in any situation. Living Language is an imprint of Random House LLC, a Penguin Random House Company. Erin Quirk is a Living Language editor who has worked on ESL books for both Chinese and Spanish speakers. She has a doctor of philosophy degree in linguistics from the CUNY Graduate Center, and has served as an instructor at Columbia University and a research assistant at Hunter College Language Acquisition Research Center.