El Trono de Fuego (Paperback)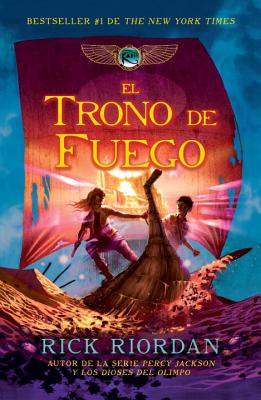 $10.95
Usually Ships in 1-5 Days
Description
---
Libro segunda de la serie Las cronicas de Kane

Quedan solo cinco dias para que una gran serpienteengulla el sol y destruya el mundo.
Despues, todo se volvera oscuridad
Si alguien ha pensado que pertenecer a una familia de faraones es divertido, que hablen conmigo o con mi hermana Sadie. Sin tiempo para reponernos de nuestra aventura en la Piramide Roja, Amos y Bast acaban de encomendarnos otra de sus misiones expres: despertar a Ra, el primer y mas poderoso rey de los dioses. Dicho asi, parece facil, verdad? Pero el problema es que nadie sabe donde esta, porque hace miles de anos se retiro a los cielos y no se ha vuelto a saber de el. Ah , se me olvidaba, tenemos que darnos prisa porque Ra es el unico que puede enfrentarse a Apofis tambien conocida como la serpiente del caos, que esta a punto de salir de la carcel, y entonces entonces sera demasiado tarde.
About the Author
---
Rick Riordan es el autor de la serie de libros para ninos Percy Jackson, bestseller numero uno de The New York Times, asi como la galardonada serie de misterio Tres Navarre para adultos. Durante quince anos, Riordan enseno ingles e historia en escuelas secundarias en San Francisco y Texas. Actualmente vive en San Antonio con su esposa y sus hijos."