Princeton Review: Cracking the Praxis (Paperback)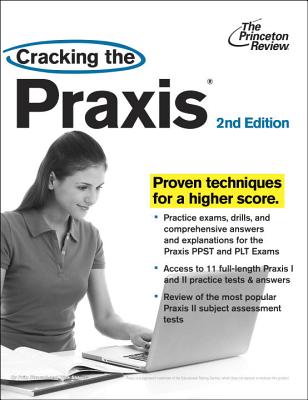 $20.00
Usually Ships in 1-5 Days
Description
---
If you need to know it, it's in this book. This revised and updated second edition of Cracking the Praxis provides everything you need to succeed on the Praxis Series teacher certification exams. It includes:
- Practice exams, drills, and comprehensive answers and explanations for the Praxis PPST and PLT Exams
- Helpful review of the most popular Praxis II Subject Assessment Tests, including Elementary Education, Business Education, English, Math, Social Studies, and Earth and Space Science
- 9 full-length practice exams in the book--2 each for Reading, Writing, and Math for the PPST, and 1 each for Grades K-6, 5-9, and 7-12 for the PLT
- Access to 2 additional full-length Praxis II Practice Tests (Elementary Education; Business Education) online
- Tons of sample problems and drills with detailed answers and explanations.
About the Author
---
The experts at The Princeton Review have been helping students, parents, and educators achieve the best results at every stage of the education process since 1981. The Princeton Review has helped millions succeed on standardized tests, and provides expert advice and instruction to help parents, teachers, students, and schools navigate the complexities of school admission. In addition to classroom courses in over 40 states and 20 countries, The Princeton Review also offers online and school-based courses, one-to-one and small-group tutoring as well as online services in both admission counseling and academic homework help.