de Como Tia Lola Termino Empezando Otra Vez (Paperback)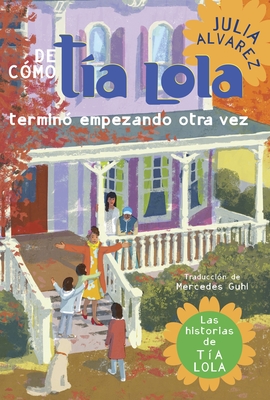 $7.99
Usually Ships in 1-5 Days
Description
---
Bienvenidos al bed & breakfast de tia Lola
Con la ayuda de sus sobrinos y de las tres hermanas Espada, tia Lola abrira las puertas de la majestuosa casa Antigua del coronel Charlebois a visitants de todas las procedencias. Pero pronto se daran cuenta de que poner a funcionar este pequeno hotel no resulta tan facil como pensaron en un principio. Y menos cuando todo parece indicar que hay alguien que ententa sabotear sus proyectos
Podrian tia Lola y los ninos descubrir quien esta detras del plan para que el bed & breakfast fracase? Lograra la familia y amigos de tia Lola organizarle una fiesta sorpresa de cumpleanos en la propia casa del coronel sin que ella sospeche nada?
About the Author
---
JULIA ALVAREZ is the author of three other beloved Tia Lola Stories--How Tia Lola Came to (Visit) Stay, How Tia Lola Learned to Teach, and How Tia Lola Saved the Summer--in addition to several critically acclaimed books for children and adults. She is a writer-in-residence at Middlebury College in Vermont.