A Boy and His Bot (Compact Disc)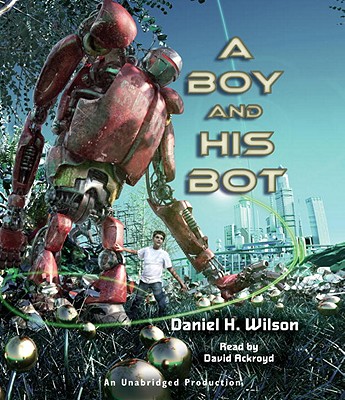 Description
---
It started as an ordinary school field trip. The bus pulled up; the kids got off. Their teacher told them where to explore and what to look out for. But when Code Lightfall spots what appears to be a tiny metallic bee, his world will never be the same again . . . literally.
This bee leads Code from his world into Mekhos the land of robots. And with bizarre robotic creatures around every turn from infinipedes with razor-sharp mandibles to giant slaughterbots to tiny nanoscopic creatures that dissolve everything in their path Mekhos is as dangerous as it is fantastical. It soon becomes clear that the only way for Code to get home is to embark on a daring rescue mission: find the object known as the Robonomicon before it falls into the hands of an evil ruler.
With new friends by his side, Code will journey from one end of Mekhos to the other in his quest to save himself and all the robots from impending doom. But as incredible as the adventure is, the biggest surprise is yet to come, when Code finds himself face-to-face with the last person he ever thought he d see again. . . .
About the Author
---
DANIEL H. WILSON is an engineer who earned his PhD in robotics at Carnegie Mellon University. He is also the author of the teen book Bro-Jitsu, as well as the adult books How to Survive a Robot Uprising, Where s My Jetpack?, and How to Build a Robot Army. Visit him online at www.danielhwilson.com."