Use Your Brain to Change Your Age: Secrets to Look, Feel, and Think Younger Every Day (Paperback)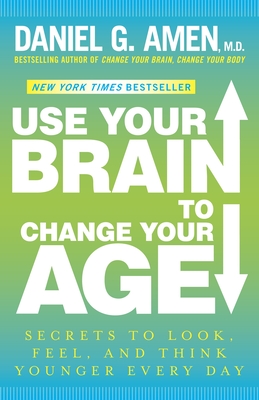 $16.00
Usually Ships in 1-5 Days
Description
---
From the bestselling author and PBS star, a brain healthy program to turn back the clock, and keep your mind sharp and your body fit.
A healthy brain is the key to staying vibrant and alive for a long time, and in Use Your Brain to Change Your Age, bestselling author and brain expert Dr. Daniel G. Amen shares ten simple steps to boost your brain to help you live longer, look younger, and dramatically decrease your risk for Alzheimer's disease.
Over the last twenty years at Amen Clinics, Dr. Amen has performed more than 70,000 brain scans on patients from ninety different countries. His brain imaging work has taught him that our brains typically become less active with age and we become more vulnerable to memory problems and depression. Yet, one of the most exciting lessons he has learned is that with a little forethought and a brain-smart plan, you can slow, or even reverse, the aging process in the brain.
Based on the approach that has helped thousands of people at Amen Clinics along with the most cutting-edge research, Dr. Amen's breakthrough, easy-to-follow antiaging program shows you how to improve memory, focus, and energy; keep your heart and immune system strong; and reduce the outward signs of aging.
By adopting the brain healthy strategies detailed in Use Your Brain to Change Your Age, you can outsmart your genes, put the brakes on aging, and even reverse the aging process. If you change your brain, you can change your life and your age.
About the Author
---
Daniel G. Amen, MD, is a double board-certified psychiatrist, professor, and ten-time New York Times bestselling author. He is one of the world s foremost experts on using brain-imaging tools to help optimize and treat his patients. Amen Clinics have one of the highest published success rates for patients. His research was listed as one of the Top 100 Stories in Science for 2015 by Discover magazine. He has written and hosted eleven highly popular shows about the brain for public television. His work has been featured in The New York Times Magazine, the Washington Post, and Men s Health and on The Dr. Oz Show and Dr. Phil."
Praise For…
---
"Dr Amen magically shows us that the aging of our brain need not match the aging of our bodies. The tools he offers to avoid injury to this most precious real estate in our body are priceless and will keep us thinking sharply throughout our progressively longer lives."
—Mehmet Oz, M.D., Professor and Vice Chair Surgery, New York Presbyterian/Columbia and host of The Dr Oz Show
 
"If you want to think smarter, you need to have a healthier brain.  This is another incredibly helpful book from Dr. Daniel Amen for anyone who wants to increase their brain capacity.  I want to stay sharp, and that's why I read everything Dr. Amen writes, and you should too!"
—Dr. Rick Warren, author of The Purpose Driven Life
 
"Use Your Brain to Change Your Age is inspiring and practical.  Its case studies make this book powerfully impactful, both for adults and young adults in schools.  I can't think of a single reader who won't find himself or herself represented in the stories of women and men who have used Dr. Amen's wisdom and research to live healthy lives.  This is a must read for anyone interested
in the human brain and the body that shelters it."
—Michael Gurian, author of Leadership and the Sexes and Boys and Girls Learn Differently
 
"Thorough, practical, and inspiring, this is an essential guide to reclaiming your brain—and your life!
It's never too late to start... or too early. I recommend it to anyone with a brain."
—Hyla Cass MD, author of 8 Weeks to Vibrant Health
 
"I couldn't stop reading Dr. Amen's new book until I was finished.  As a holistic neurosurgeon, I found it to be the best user's guide to optimal brain function I have ever read.  His incredible storytelling skill combined with practical information will change your life."
—Joseph C. Maroon, M.D., Professor and Vice Chairman, Department of Neurosurgery, University of Pittsburgh Medical Center, Team Neurosurgeon, The Pittsburgh Steelers