Tinieblas = Shadowland (Paperback)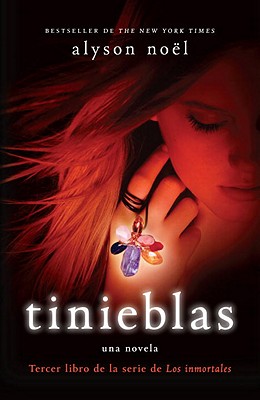 Description
---
Ella siempre creyo que el era su destino pero a veces el destino tiene otros planes
Ever y Damen han viajado a traves de incontables vidas pasadas y luchado contra los mas temibles enemigos solo para poder al fin estar juntos. Pero el amor eterno tiene un alto precio: Roman les ha lanzado una poderosa maldicion para que no puedan tocarse. Y, con una simple caricia o un suave roce de labios, Damen podria hundirse en el inhospito abismo de las almas perdidas. Desesperada por salvar Damen, Ever se sumerge en la magia y recibe ayuda de una fuente inesperada Jude Knight.
Aunque se acaban de conocer, Jude un atractivo chico de ojos verdes con grandes poderes magicos y un misterioso pasado le resulta extranamente familiar. Ever siempre penso que Damen era su alma gemela, pero mientras el se aleja de ella para protegerla de las tinieblas que habitan en su alma, la relacion de Ever y Jude se hace cada vez mas fuerte y pone a prueba su amor por Damen como nunca antes.
About the Author
---
Alyson Noel es la autora de varios bestsellers numero uno de The New York Times y USA Today. Sus libros han ganado el National Reader's Choice Award, entre otros premios y honores. Ha escrito varias novelas juveniles, entre las cuales se encuentran Eternidad y Luna Azul, las dos primeras entregas de la exitosa serie Los inmortales. Actualmente vive in California.