Disaster Was My God: A Novel of the Outlaw Life of Arthur Rimbaud (Paperback)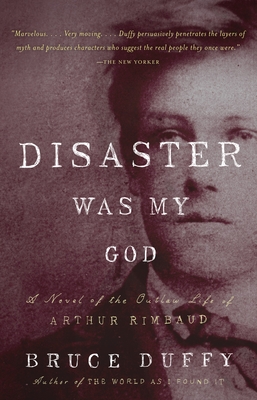 Description
---
Arthur Rimbaud burst onto the literary scene in 1871 with a startling new voice, transforming himself from an anonymous country boy into the sensation of Paris. His explosive life included a passionate affair with the older (and married) poet Paul Verlaine, and a prosperous career as a trader and arms dealer in Ethiopia. A cancerous leg forced him to return to France, where he died at the age of thirty-seven.
 
Bruce Duffy takes these astonishing facts and brings them to vivid life in a story rich with humor, exquisite writing, and alarming parallels to our own contemporary moment. Disaster Was My God vividly conveys, as few works ever have, the inner turmoil of this calculating genius, and helps us understand why Rimbaud's work and life continue to influence protean rock legends, from Bob Dylan to Patti Smith.
About the Author
---
Bruce Duffy is the author of "The World As I Found It," a fictional life of Ludwig Wittgenstein, and "Last Comes the Egg." His first novel was released in the "New York Review of Books Classics" series. He lives in Bethesda, Maryland.
Praise For…
---
"Marvelous. . . . Very moving. . . . Duffy persuasively penetrates the layers of myth and produces characters who suggest the real people they once were." —The New Yorker

"Astonishing. . . . Exquisite. . . . Breathlessly absorbing." —The Boston Globe

"Duffy has found a subject whose ability to fascinate rivals that of Wittgenstein's, and the literary results, once again, are impressive." –San Francisco Chronicle
 
"Entertaining. . . . [Duffy's] raucous, bawdy and ultimately worshipful take on the infamous poete maudit—as in cursed poet—offers histrionic scenes of pain, degredation, sheer madness and intermittent danger." —All Things Considered, NPR


"A fiery mosaic of brilliantly conceived and written pieces. . . . The adorned texture of Duffy's writing becomes addictive. . . . Among other things, Disaster is the rare example of a page-turner whose pages are richly weighted." —The Boston Globe
 
"Disaster Was My God is a demanding book…but these difficulties are not only compensated, they are essential to the novel's success. The book's chaos is true to the mental and emotional chaos of the elusive man who inhabits its center, a man whose ultimate unknowability is perhaps the most modern thing about him." —San Francisco Chronicle
 
"Equally rumbustious [as The World as I Found It]. . . . A wonderful story with a vitality that can't be suppressed. . . . A story bursting to be told, and how right that it should be taken up by such a master storyteller." —The Globe and Mail (Toronto)
 
"There's quite enough in [Rimbaud's] short life for most novelists to work with, and Bruce Duffy does it up big. . . . Duffy carries the reader beyond the usual ventriloquism of a realistic rendering of the material to a playful level above and beyond it." —All Things Considered, NPR
 
"Duffy manages the difficult feat of bringing a larger-than-life figure to life, with nothing more—or less—than language. . . . An audaciously constructed, powerfully composed work that manages to create for the reader not simply the facts of Rimbaud's life, but rather, the driving, almost insensate force that made those facts so alarming, so alluring." —Bookotron.com
 
"Using poetic techniques—sound effects, synaesthesia and weird juxtapositions—Duffy attempts the impossible: to imagine what it was like to have Rimbaud's brain. . . . Rimbaud has been remade for a whole new audience." —The Independent (UK)

 "Drawing on the life, the history, the writing and a good deal of imagination, Mr. Duffy fills in the gaps [of Rimbaud's life]. He does it with much enthusiasm and verve. One gets the impression that he truly loves his subject, that he wants in a bad way to reveal a profound secret of this genius." —MostlyFiction Book Reviews

"Duffy makes this melange of fact and fiction, of 19th, 20th, and 21st century language hang together in an ambitious work, whose copious layers of detail demonstrate wit, panache and page-turning invention throughout." —The Telegraph (UK)