Daughters of the Revolution (Paperback)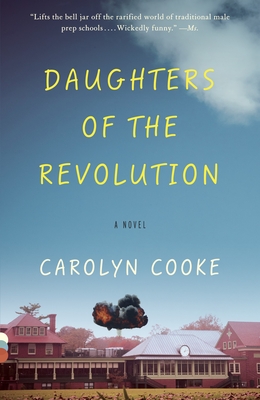 Description
---
In 1968, a clerical mistake threatens the prestigious but cash-strapped Goode School in the small New England town of Cape Wilde. After a century of all-male, old-boy education, the school accidentally admits its first female student: Carole Faust, a brilliant, outspoken, fifteen-year-old black girl whose arrival will have both an immediate and long-term effect on the prep school and everyone in its orbit.
There's the school's philandering headmaster, Goddard "God" Byrd, who had promised co-education "over his dead body" and who finds his syllabi full of dead white males and patriarchal tradition constantly challenged; there's EV, the daughter of God's widowed mistress who watches Carole's actions as she grows older with wide eyes and admiration; and, finally, there's Carole herself, who bears the singular challenge of being the First Girl in a world that's not quite ready to embrace her.
About the Author
---
Carolyn Cooke's short-story collection, "The Bostons, " was a winner of the 2002 PEN/Robert Bingham Fellowship for Writers and a runner-up for the PEN/Hemingway Foundation Award. Her fiction has appeared in "AGNI, The Paris Review, Ploughshares" and in two volumes each of "The Best American Short Stories" and "The O. Henry Prize Stories." A recipient of fellowships from the National Endowment for the Arts and the California Arts Council, she teaches in the MFA writing program at the California Institute of Integral Studies in San Francisco.
Praise For…
---
 
"Lifts the bell jar off the rarified world of traditional male prep schools. . . . Wickedly funny." —Ms. 
  
"Mordantly funny and coolly streamlined, deeply humane and slyly wise." —St. Petersburg Times
  
"Ferocious, astonishing. . . . [Cooke's] profound, honest compassion for all her characters, men and women, makes them so engrossing, you almost forget what they're up against." —San Francisco Chronicle
 
"[Daughters of the Revolution] shimmers with intimate and revealing detail." —The New York Times Book Review

"Cooke writes with such delicacy and control, such luminous warmth, that the only disappointment comes when the book ends." —The Boston Globe
 
"Carolyn Cooke writes with knives and feathers. She slices into her subjects so we see the insides of them and she dusts off the everyday covering to reveal the true contours beneath. Her Daughters of the Revolution is bristling with smarts. Read it slowly and savor the gift this author gives her readers: fierce intelligence, sly humor and not a moment of missing the folly in life." —Susan Minot, author of Rapture
 
"Wise [and] exquisitely spare." —Marie Claire
 
"Cooke's writing is so sensuous and alert that it would be easy to miss the novel's symbolic qualities." —The New Yorker
 
"So smart, so visceral, so sexy. . . . Absolutely brilliant." —Kate Walbert, author of A Short History of Women 
 
"[A] charming, provocative, intelligent novel" —Hudson Valley News
 
"Fiercely intelligent." —O, The Oprah Magazine
 
"If you read just one book of fiction this year, this should be the one." —The Portland Press Herald
 
"This smart, sexy, sarcastic, sophisticated novel from Cooke . . . defies genre comparisons but has particular relevance." — Library Journal (starred review)
 
"Cooke's writing flows and sparkles." —The Washington Independent Review of Books 
  
"Exuberant bad behavior runs like a life force through this book, in which every sentence is chiseled exactly." —Sarah Stone, author of The True Sources of the Nile