Nacidos Para Correr: Una Tribu Oculta, Superatletas y la Carrera Mas Grande Que el Mundo Nunca Ha Visto = Born to Run (Paperback)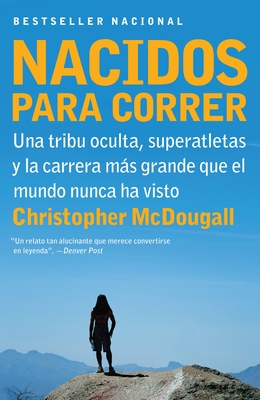 $16.95
Usually Ships in 1-5 Days
Description
---
Una aventura epica que comenzo con una simple pregunta: Por que me duele el pie?
Aislados por las peligrosas Barrancas de Cobre en Mexico, los apacibles indios Tarahumara han perfeccionado durante siglos la capacidad de correr cientos de millas sin descanso ni lesiones.
En este fascinante relato, el prestigioso periodista --y corredor habitualmente lesionado-- Christopher McDougall sale a descubrir sus secretos. En el proceso, nos lleva de los laboratorios de Harvard a los torridos valles y las gelidas montanas de Norte America, donde los cada vez mas numerosos ultra corredores estan empujando sus cuerpos al limite, y finalmente a una vibrante carrera en las Barrancas de Cobre entre los mejores ultra corredores americanos y los sencillos Tarahumara. Esta increible historia no solo despertara tu mente; ademas inspirara tu cuerpo cuando te des cuenta de que, de hecho, todos hemos nacido para correr.
About the Author
---
Christopher McDougall ha sido corresponsal de guerra para la Associated Press y en la actualidad es editor contribuyente de Men's Health. Ha sido finalista de los National Magazine Awards en tres ocasiones, y ha colaborado con publicaciones como Esquire y The New York Times Magazine. Es ademas autor del libro Girl Trouble, basado en un reportaje sobre la cantante Gloria Trevi escrito para The New York Times. Suele correr a traves de las granjas de la comunidad Amish cerca de su casa en Pennsylvania.
Praise For…
---
"Uno de los mejores libros sobre correr jamás escritos". —Runnersworld.com
 
"Fascinante. . .  Apasionante. . . Una oda al placer de correr". —The Washington Post