Solar (Paperback)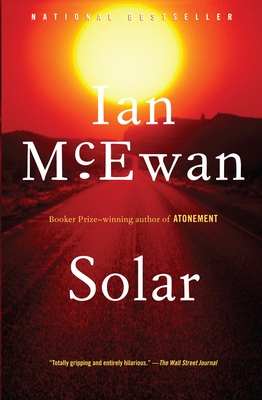 $15.95
Usually Ships in 1-5 Days
April 2010 Indie Next List
---
"Nobel Prize-winning English physicist Michael Beard is a human being of extremes: very bright, very lazy, overweight, over married (five times), amoral, and rapacious. Despite early success, he has become irrelevant until a lucky break furnishes him with material to change course, become an environmental darling, and appear to save the world. McEwan, as usual, writes a taut plot line, with suspense and dread of retribution building with each turned page."
— Darwin Ellis, Books on the Common, Ridgefield, CT
Description
---
A best-selling work of wit from the Booker Prize-winning author, Solar brilliantly traces the arc of a Nobel Prize-winning physicist's ambitions and self-deception.
Dr. Michael Beard's best work is behind him. Trading on his reputation, he speaks for enormous fees, lends his name to the letterheads of renowned scientific institutions, and halfheartedly heads a government-backed initiative tackling global warming. Meanwhile, Michael's fifth marriage is floundering due to his incessant womanizing. When his professional and personal worlds collide in a freak accident, an opportunity presents itself for Michael to extricate himself from his marital problems, reinvigorate his career, and save the world from environmental disaster. But can a man who has made a mess of his life clean up the messes of humanity?

About the Author
---
Ian McEwan is the bestselling author of seventeen books, including the novels Nutshell; The Children Act; Sweet Tooth; Solar, winner of the Bollinger Everyman Wodehouse Prize; On Chesil Beach; Saturday; Atonement, winner of the National Book Critics Circle Award and the W. H. Smith Literary Award; The Comfort of Strangers and Black Dogs, both short-listed for the Booker Prize; Amsterdam, winner of the Booker Prize; and The Child in Time, winner of the Whitbread Award; as well as the story collections First Love, Last Rites, winner of the Somerset Maugham Award, and In Between the Sheets.
Praise For…
---
"Totally gripping and entirely hilarious." —Wall Street Journal

"Playful . . . glittering, gimlet-eyed. . . . Solar is balls-out, inventive, and brilliant." —Elle
 
"McEwan's funniest novel yet." —The New York Times Book Review, Editors' Choice
 
"Excellent….Discreet and witty." –The New York Review of Books
 
"Wonderful….Underlying the novel's mordant comedy and its mounting suspense….is a genuine concern for the climate, the planet, the future of man." –Kansas City Star
 
"McEwan writes sentences of such witty elegance that the loss of John Updike seems a little easier to bear. . . .[He] comes to this [climate change] debate with considerabl[e] sophistication." –The Washington Post
 
"Precise and satisfying." –People
 
"Artistically ambitious [and] seriously entertaining. . . .In Solar [McEwan has] elegantly discovered a terrible truth: that comedy is the only possible way to deal with the searing specter stalking the planet." –The Wall Street Journal
 
"McEwan's best novel ever. . . .Fans of McEwan's previous work will find much to like." –The Daily Beast
 
"Vivacious and sprawling, a beautifully and compellingly written novel. . . .[His] achievement is the brilliant creation of a flawed, larger than life character who all but walks off the page to shake your hand." –The Times (London)
 
"The funniest book Ian McEwan has ever written. . . .McEwan is a nearly peerless wordsmith. . . .[and] crazy smart." –Entertainment Weekly
 
"[With] wonderful scenes, comic set pieces. . . .If you're human, it's hilarious." –Minneapolis Star Tribune
 
"Deft. . . .McEwan's background research is so seamlessly displayed that scientists at the Massachusetts Institute of Technoloy might wonder if he's nicked their notes. But where Solar really succeeds—beyond the dark comedy—is the author's ability to reveal the nature of the climate conundrum in the very human life of his protagonist." –Time
 
"This may be his best work yet. . . .From start to finish, Ian McEwan has delivered his fastest-paced and most fastidiously researched novel." –The Vancouver Sun
 
"Wonderfully rendered. . . .Thoroughly engrossing and often quite funny." –The Seattle Times
 
"McEwan has shown himself to be a master of the smart, cynical tale. With Solar, though, the bar is raised. This may be the first climate-change comedy." –Montreal Gazette
 
"A pleasure to read. . . .McEwan mines [Beard's] rich and extravagant interior life for comic gold. McEwan proves himself comfortable not just with comedy and suspense but with science as well." –The Salt Lake Tribune
 
"Elegant and surprising. . . .[McEwan] reaches for a lighter, more comic mode than usual. . . .The overarching plot pulls off a clinching novelistic coup." –The Guardian (London)
 
"Provoking. . . .[With] carefully plotted twists. . . .It is a sign of McEwan's comic skill that he makes us sympathize with [the protagonist]. . . .Longtime readers of McEwan know how skilled he is at producing disasters from the ordinary, the way a magician pulls a bunny from a hat." –Slate
 
"Charlie Chaplinesque. . . .The comedy keeps coming….[Solar] tells the story of our polluted planet more vividly than any amount of well-explained physics." –Bloomberg News