La Zona Verde (Paperback)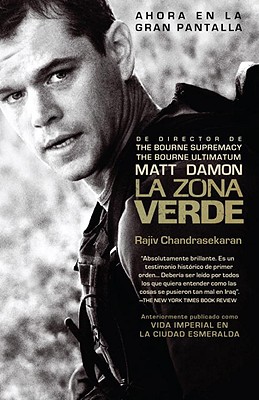 Description
---
La Zona Verde, Bagdad, 2003: En el interior de un lujoso complejo amurallado, Paul Bremer y su Autoridad Provisional de la Coalicion, se proponen construir un nuevo y democratico Irak. La APC, un equipo formado por principalmente por idealistas escogidos por sus opiniones sobre temas como el aborto y la pena capital, paso el primer y crucial ano de la ocupacion intentando alcanzar objetivos como una nueva ley de trafico y una ley protectora de diseno de microchips que poco o nada tenian que ver con las necesidades reales de un pais en tiempos de posguerra.
Rajiv Chandrasekaran, ex director de la oficina de The Washington Post en Bagdad, nos ofrece un intimo retrato de la vida en el interior de esta burbuja del Mundo de Oz que se mantuvo impasible ante el caos que reinaba en el exterior.
About the Author
---
Rajiv Chandrasekaran es el editor nacional de The Washington Post, donde ha trabajado desde 1994. Anteriormente, trabajo como jefe de gabinete del Post en Bagdad, El Cairo y el Sureste de Asia, y como corresponsal cubriendo la guerra en Afganistan. Ha sido periodista residente en el Internacional Reporting Project de la Escuela de Estudios Internacionales Avanzados Johns Hopkins, y profesor de Derecho Publico en el Centro Internacional Woodrow Wilson. Vive con su mujer en Washington D.C."