Animal Rescue Team Collection: Volume 1: #1: Gator on the Loose!; #2: Special Delivery! (Compact Disc)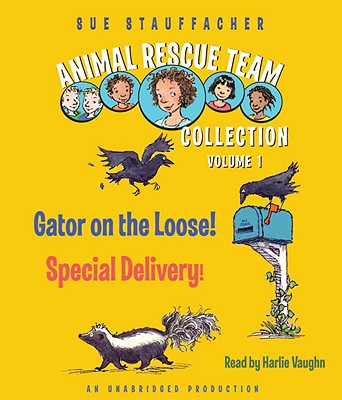 Description
---
GATOR ON THE LOOSE!
Meet the Carters: Mr. and Mrs. Carter, 10-year-old daughter Keisha, five-year-old Razi, baby Paolo, and Grandma Alice. Together, they run Carters' Urban Rescue, the place you call when you've got an animal where it shouldn't be. There's a baby alligator at the city pool, which will seriously interfere with opening day. So it's up to the whole family to figure out what to do with the poor guy who has no business hanging around Michigan. Luckily for all of them, the answer is closer than they ever could have imagined.
 
SPECIAL DELIVERY!
Keisha and the Animal Rescue Team have a mystery to solve when a call comes in to Carters' Urban Rescue from the folks over at the community garden—it seems they have a stinky new resident. Could it be that a skunk has moved in? And as if this isn't enough to figure out, why is a murder of crows trying to stop Mr. Sanders from delivering mail to the old brick house on Orchard Street? The Carters are on the case.
About the Author
---
Sue Stauffacher lives with her husband and sons in a 150+-year-old farmhouse in the city of Grand Rapids, Michigan. Over the years, possums, bats, raccoons, mice, squirrels, crows, ducks, woodchucks, chipmunks, voles, skunks, bunnies, and a whole bunch of other critters have lived on the property. Though Sue is not a rehabilitator herself, she is passionate about helping kids know what to do when the wild meets the child.

A longtime advocate for literacy, Sue speaks around the country, connecting kids with books to help grow lifelong readers. She is a former book reviewer, and her novels for young readers include "Harry Sue," "Donutheart," and "Donuthead." To learn more about Sue and her books, visit her on the Web at www.suestauffacher.com. "From the Hardcover edition."