The Ordering of Love: The New and Collected Poems of Madeleine L'Engle (Paperback)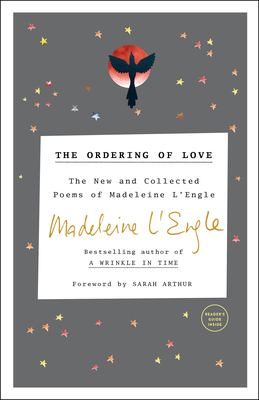 $20.99
Usually Ships in 1-5 Days
Description
---
Praise for The Ordering of Love

By Madeleine L'Engle
-In a brilliant marriage of myth and manner, histories sacred and profane, prayers of petition and of praise, these poems both articulate and illumine the trouble in the gap in which we live-the gap between human affections and Divine Love. L'Engle is unfailing in her willingness to see
through
-not
around
-human suffering, and in so doing announces no final severing of spirit and flesh but an enduring vision of resurrection in that crux, in the cross, in the One in Whom all things meet, continuing.-
-Scott Cairns, author of
Slow Pilgrim
and
Philokalia: New and Selected Poems
-I love L'Engle's poetry for the way it incarnates not only the great Truths of the faith, but all the little truths of our ordinary existence-our working and playing and loving and fighting and dreaming and idling and all the rest of it-and for the way it shows us that those big and little truths should not, cannot, be separated.-
-Carolyn Arends, recording artist and author
-Why is L'Engle one of the defining poets of our time? Because when life hurts, she does not shrink from the wounds. She clarifies the murk with hope as we feel the lift of grace.-
-Calvin Miller, Beeson Divinity School
Birmingham, Alabama
-We are, all of us, the richer for this carefully crafted and prayerfully rendered collection.-
-Phyllis Tickle, Author, The Divine Hours

-Poetry, at least the kind I write, is written out of immediate need; it is written out of pain, joy, and experience too great to be borne until it is ordered into words. And then it is written to be shared.-
-Madeleine L'Engle
Madeleine L'Engle's writing has always translated the invisible and intricate qualities of love into the patterns and rhythms of visible life. Now, with compelling language and open-hearted vulnerability, The Ordering of Love brings together the exhaustive collection of L'Engle's poetry for the first time.
This volume collects nearly 200 of L'Engle's original poems, including eighteen that have never before been published. Reflecting on themes of love, loss, faith, and beauty, The Ordering of Love gives vivid and compelling insight into the language of the heart.
About the Author
---
Madeleine L'Engle was the author of more than forty-five books for all ages, among them the beloved A Wrinkle in Time, awarded the Newbery Medal; A Ring of Endless Light, a Newbery Honor Book; A Swiftly Tilting Planet, winner of the American Book Award; and the Austin family series of which Troubling a Star is the fifth book. L'Engle was named the 1998 recipient of the Margaret A. Edwards award, honoring her lifetime contribution in writing for teens. Ms. L'Engle was born in 1918 in New York City. She wrote her first book, The Small Rain, while touring with Eva Le Gallienne in Uncle Harry. She met Hugh Franklin, to whom she was married until his death in 1986, while they were rehearsing The Cherry Orchard, and they were married on tour during a run of The Joyous Season, starring Ethel Barrymore. Ms. L'Engle retired from the stage after her marriage, and the Franklins moved to northwest Connecticut and opened a general store. After a decade in Connecticut, the family returned to New York. After splitting her time between New York City and Connecticut and acting as the librarian and writer-in-residence at the Cathedral of St. John the Divine, Madeleine L'Engle died on September 7, 2007 at the age of 88.