Altared: The True Story of a She, a He, and How They Both Got Too Worked Up about We (Paperback)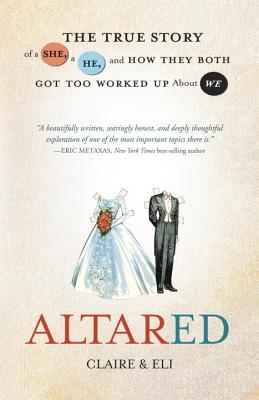 Description
---
Altared "is a must-read for young Christians hungering for a realistic, biblically rich take on love and marriage in the twenty-first century.
" Katelyn Beaty, editor, "Christianity Today "magazine, "Her.meneutics"
""
Mar riage-hap py \mar-ij-hape-\ adj 1: Having an inordinate preoccupation with marital pursuits, sometimes at the cost of other Christian priorities, commonly seen in evangelicals. 2: A giddiness stemming from all things related to marriage.
In the frenzied pursuit of romance, Christians sometimes lose sight of the greatest commandments: to love God and to love others. Distracted by wedding bells and exuberant hopes for a happily-ever-after, Christians often forget the greater vision of Christ's call to love.
What if God is less worked up about marriage than we are?
With honesty and insight, Claire and Eli ask us to shift our thinking away from marriage or singleness and toward love and discipleship.
Drawing from luminaries like Augustine, the Desert Fathers, and Bonhoeffer, they invite you to join their real-life exploration of love as they convincingly demonstrate why a love for God and for one's neighbor are to be our top priorities, whether we are single or married.
About the Author
---
Claire is a writer who originally hails from Cincinnati, Ohio. She graduated from Wheaton College with a bachelor s degree in English with a concentration in writing. After Wheaton, she worked as an assistant editor for Christianity Today before moving to New York City to work in the Corporate Communications Headquarters for The New York Times. From there, she became an editorial assistant for Penguin Classics and Penguin Books. Claire s writing has been published by Christianity Today, Books & Culture and First Things.

Eli is a lawyer and writer originally from Turlock, California, the home of Silva s Taqueria. Eli received his law degree from The University of Chicago Law School and then went on to practice antitrust litigation as an associate at an international law firm in San Francisco. During school, Eli spent two summers as a clerk in the Homicide Bureau of the Brooklyn District Attorney's office. Before that, he worked in music as an A&R Manager at Tooth & Nail Records in Seattle. Eli's writing has been published by Books & Culture."
Praise For…
---
Praise for Altared
"A beautifully written, searingly honest, and deeply thoughtful exploration of one of the most important topics there is."
     — Eric Metaxas, New York Times best-selling author of Bonhoeffer: Pastor, Martyr, Prophet, Spy and Amazing Grace: William Wilberforce and the Heroic Campaign to End Slavery

"Perceptive, personal, and poignantly true, Altared is a must-read for young Christians hungering for a realistic, biblically rich take on love and marriage in the twenty-first century."
     — Katelyn Beaty, editor, Christianity Today and Her.meneutics blog

"Altared tells us how certain unexamined notions about courtship and marriage (often framed as 'biblical') play out among young American evangelicals today. Fresh, funny, perceptive, it is animated above all by wonder at the reality of God's love."
     —John Wilson, editor, Books & Culture

"Altared is a wise, wry, questioning, affirmative, sober, and deeply encouraging story—and it does something nearly unique: It asks what our thinking about 'relationships' and marriage might look like if it were governed by the biblical account of love. Not just the part about husband and wife, but love, in all its forms. This book is a sweet gift to the Church."
      — Dr. Alan Jacobs, Clyde S. Kilby professor of English at Wheaton College

"This is the relationship book for a new generation of Christians. Altared gently but forcefully reexamines our Christian love affair with marriage and has the audacity to suggest that real love has little to do with looking for Mr. or Ms. Right."
     — Dr. Christine Gardner, associate professor, Wheaton College, and author of Making Chastity Sexy: The Rhetoric of Evangelical Abstinence Campaigns

"A much needed wake-up call—a plea for a paradigm shift in the way that we think of love, marriage, and ourselves as followers of Jesus. Eli and Claire's story needs to be shared."
      — Dr. Lucy Collins, professor of philosophy, ethics, and aesthetics

"A noble and necessary book, Altared does the hard work of mining the Bible and Christian luminaries like Augustine, Calvin, and Bonhoeffer for insights concerning dating, marriage and love, and then delivers that truth in hearty, yet practical ways. A great gift to the reader."
     — Vito Aiuto, Welcome Wagon, senior pastor of Resurrection Presbyterian Church

"I was challenged, entertained, taught, and inspired. The way the authors intermix biography and good, honest story telling with the more pedagogical sections is really fun and effective. Basically, it's dang good."
      — Jamey Pappas, campus director, Campus Crusade, San Luis Obispo

"Now here's a strange thing: a well written, immensely thoughtful exploration of the meaning of marriage that challenges our obsession with it without devaluing it. This is a lovely and needed book that I hope everyone reads."
     — Matthew Lee Anderson, author of Earthen Vessels

"Altared is a timely warning against making an idol out of marriage. In harmony (not eHarmony) with some of the best advice I ever received, this work tells readers how to pursue love, not marriage. Then see what happens. Highly recommended."
     — Dr. David Naugle, chair and professor of philosophy, Dallas Baptist University, author of Reordered Love, Reordered Lives

"A real winner here. Very well and creatively written!"
     — Dr. Joseph H. Hellerman, professor, Talbot School of Theology, author of When the Church Was a Family: Recapturing Jesus' Vision for Authentic Christian Community