Love and War Devotional for Couples: The Eight-Week Adventure That Will Help You Find the Marriage You Always Dreamed of (Hardcover)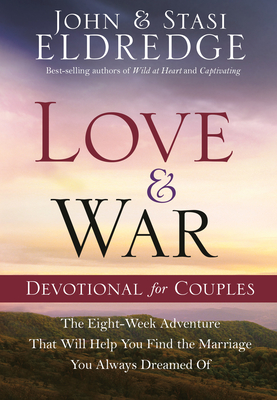 $15.99
Usually Ships in 1-5 Days
Description
---
A Realistic Guide to the Marriage You ve Always Dreamed Of
Is your relationship with your spouse far from the union you d hoped it would be? John and Stasi Eldredge know about the realities of marriage and they know why it's so important to take hold of the dreams you once had and see God fulfill them.
In this eight-week devotional, John and Stasi will guide you and your spouse to see God's heart for your marriage more clearly. This life-changing guide includes new insights, encouraging Scriptures, and practical exercises that will help you develop a personal plan for a vibrant marriage.
As John and Stasi write, We learn to love moment by moment. Day by day. Week by week. Our marriages grow and become what God intended and what we ultimately long for in the same way. We are, all of us, learning to love.
About the Author
---
John Eldredge is the director of Ransomed Heart Ministries in Colorado Springs, Colorado, a fellowship devoted to helping people discover the heart of God. He is the author of numerous books, including Wild at Heart, Waking the Dead, and The Sacred Romance (with Brent Curtis). Stasi Eldredge is the coauthor of Captivating (with John) and leads the women s ministry of Ransomed Heart . They have been married over twenty six years and have three sons."