Permanently Blue: How Democrats Can End the Republican Party and Rule the Next Generation (Paperback)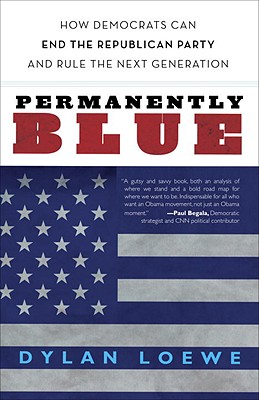 Description
---
In 2008 Democrats accomplished the political trifecta that had eluded them for more than 40 years: get a progressive president elected and win landslide victories in the House and Senate at the same time. The question is, was that the high point for the party? Or was it just the beginning of a Democratic golden age?
As author Dylan Loewe compellingly argues, Democrats now have a unique chance to make their majority permanent and to dominate politics for a generation to come provided they recognize their opportunity and employ the right strategies to capitalize on it. From the midterms and redistricting to Obama's reelection, from the search for his successor in 2016 to the changing political landscape in 2020 and beyond, Loewe walks readers through what it will take for Democrats to stay in power and why the possibility of turning the nation permanently blue is suddenly so bright.
About the Author
---
DYLAN LOEWE is a Democratic speechwriter and strategist. He is a regular contributor to the Huffington Post where he provides commentary and political analysis. He holds a master's in public policy fromHarvardUniversityand a law degree fromColumbiaLawSchool.

While reading, ask the author a question on Twitter @dylanloewe!"
Praise For…
---
"Will empower Democrats and scare the pants off Republicans—not because it's yet another mindless partisan screed, but because it isn't." - Nico Pitney, National Editor, The Huffington Post

"Combining passion and eloquence with deep research and sharp analytic skill, Dylan Loewe has produced a spellbinding book that should stimulate debate and provide hope to progressives everywhere." – Doris Kearns Goodwin, Pulitzer Prize winning author of No Ordinary Time and Team of Rivals
 
"A rousing call to action—equal parts inspiration and intellectual provocation. " –Jeff Shesol, former Presidential Speechwriter and author of Supreme Power: Franklin Roosevelt vs. The Supreme Court