Chasing Venus: The Race to Measure the Heavens (Hardcover)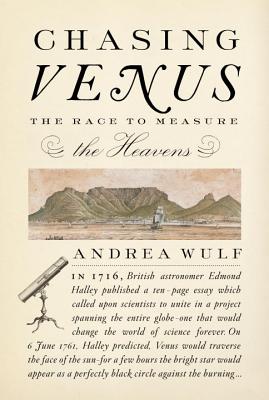 Description
---
The author of the highly acclaimed Founding Gardeners now gives us an enlightening chronicle of the first truly international scientific endeavor--the eighteenth-century quest to observe the transit of Venus and measure the solar system.
On June 6, 1761, the world paused to observe a momentous occasion: the first transit of Venus between the earth and the sun in more than a century. Through that observation, astronomers could calculate the size of the solar system--but only if they could compile data from many different points of the globe, all recorded during the short period of the transit. Overcoming incredible odds and political strife, astronomers from Britain, France, Russia, Germany, Sweden, and the American colonies set up observatories in remote corners of the world, only to have their efforts thwarted by unpredictable weather and warring armies. Fortunately, transits of Venus occur in pairs: eight years later, the scientists would have another opportunity to succeed.
Chasing Venus brings to life the personalities of the eighteenth-century astronomers who embarked upon this complex and essential scientific venture, painting a vivid portrait of the collaborations, the rivalries, and the volatile international politics that hindered them at every turn. In the end, what they accomplished would change our conception of the universe and would forever alter the nature of scientific research.
About the Author
---
ANDREA WULF was born in India and moved to Germany as a child. She lives in London, where she trained as a design historian at the Royal College of Art. She is the author of The Brother Gardeners, long-listed for the Samuel Johnson Prize in 2008 and winner of the American Horticultural Society 2010 Book Award, and of Founding Gardeners; she is the coauthor (with Emma Gieben-Gamal) of This Other Eden: Seven Great Gardens and 300 Years of English History. She has written for The Sunday Times, the Financial Times, The Wall Street Journal, and the Los Angeles Times, and she reviews for several newspapers, including The New York Times, The Guardian, and The Times Literary Supplement.
Praise For…
---
 
"Excellent. . . . Chasing Venus is beautifully paced, alternating between expeditions, with lush descriptions of the often arduous journeys involved."
     —Owen Gingerich, Nature
 
"Outstanding. . . . It's the book of the year so far—do not miss it!"
     —Ian Welland, Astronomy Now

"Andrea Wulf has now chronicled the 18th-century transit expeditions in a narrative light on astronomical detail but rich in personalities and adventures. The race was the 1760s version of reality TV — a cross between Amazing Race and Survivor. People waited to see which astronomers would make it and which wouldn't, and to learn whether all the time and money was worth it. Wulf doesn't entirely resolve that question, but she does wonderfully sketch the race for scientific, and patriotic, glory."
     —Alexandra Witze, Dallas Morning News
 
"Another fine example of such scientific storytelling. . . . Narrated with elegant expertise."
     —Iain Finlayson, The Times (London)
 
"The 18th century stargazers whom Andrea Wulf describes . . . would put Indiana Jones to shame. . . . Here is a book both astrophysicists and poets can enjoy." 
     —Matthew Price, The Boston Globe
 
"Chasing Venus is [a] thrilling adventure story. . . . Wulf's marvelous eye for detail and talent for simplifying complex science make the book, timed for release a month before the last transit of this century, well worth reading before June."
     —Ann Levin, The Denver Post
 
"[An] enthusiastic account. . . . With the next transit predicted for June 6, 2012, Wulf's well-handled history arrives in a timely manner."
     —Booklist
 
"[Wulf] clearly explains how Venus' transit across the sun, which occurs every 105 years (and each time does so twice, at eight-year intervals—one will occur in June 2012), gave Enlightenment astronomers a chance to figure out such things as the distance between the earth and the sun. . . . Enlightening Enlightenment fare."
     —Kirkus, starred review
Coverage from NPR