Continuous Cables: An Exploration of Knitted Cabled Knots, Rings, Swirls, and Curlicues (Paperback)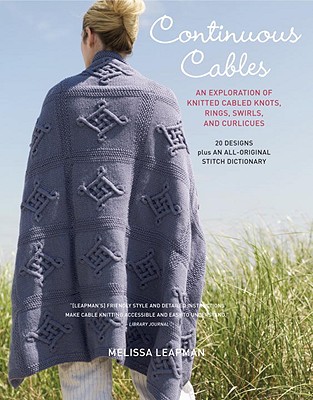 Description
---
Mention the phrase "cable knitting," and most people--knitters and non-knitters alike--envision textured ropes, twists, and braids winding up knitted fabrics. But did you know that knitters can also create circular, closed-ring shapes with cables? Just imagine: curlicues, rings, swirls, knots--even intricate Celtic-inspired motifs--all richly embossed on knits
In "Continuous Cables," expert knitwear designer Melissa Leapman goes beyond the traditional, ordinary cables explored in her first book, "Cables Untangled," providing knitters with an original collection of projects and stitch patterns featuring beautiful, closed-ring cables.
Complex-looking cables aren't as hard as they look, and in "Continuous Cables," Leapman breaks them down into all of their component parts. The all-new patterns are versatile and sophisticated, and the directions are clear and accessible. Leapman walks knitters through projects that include everything from starter projects (Simple Pillow, Simple Hat) and home accents (Fireside Afghan, Stowe Cabin Throw Rug), to clothing for women (Sage Tunic, Honeysuckle Sleeveless Shell), and gifts for friends and family (Baby Blocks, Man's Entwined Circles Pullover).
But "Continuous Cables" isn't merely a source for 20 fun patterns--it also features more than 80 original individual stitch patterns, most designed just for this book. With a primer on basics, a useful yarn choice and substitution section, resource guide, and a stitch dictionary of closed-ring cable patterns, "Continuous Cables" is a must-have reference for any cable knitter's growing library.
Endless cables, infinite possibilities
"From the Hardcover edition.
About the Author
---
Melissa Leapman is a widely published sweater designer whose patterns have appeared in "Vogue Knitting," "Knitter's," "McCall's," "Family Circle," "Better Homes and Gardens," "Knit It!," and "Interweave Knits" magazines. Leapman has worked as a freelance designer for many leading ready-to-wear manufacturers, noted design houses, and major yarn companies. In addition, her knitting, crochet, and design workshops are extremely popular with crafters at all skill levels. She lives in New York City. "From the Hardcover edition."
Praise For…
---
In her follow-up to Cables Untangled, Leapman explores the knitted closed-ring cable in great detail. Her friendly style and detailed instructions make cable knitting accessible and easy to understand, and her explanation of the often-daunting symbols knitters find on charts for knitted cables is excellent. The patterns explore the variety of closed-ring cables and range from small, simple starter projects (a hat and a pillow) to intricate showpieces (a sampler afghan). The illustrated stitch dictionary alone is worth the price—the patterns and detailed how-tos add to the value. An essential purchase.

—Library Journal