Must You Go?: My Life with Harold Pinter (Paperback)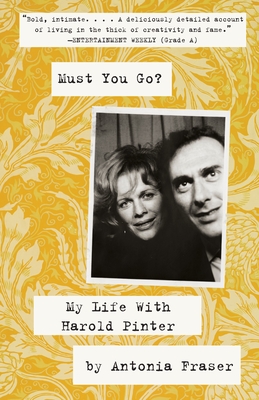 $16.00
Usually Ships in 1-5 Days
October 2010 Indie Next List
---
"They met after a dinner party and carried on an affair even though they were both married to others. Madly in love for over three decades until the day Pinter died of cancer, theirs was a life focused on the theater, their respective children, and each other. They travelled the world, lived cushioned by luxury, and met and entertained everyone from royals to radicals. Charming, funny, sad, fascinating, and beautifully written, this tale will find you wishing for just such a relationship."
— Betsy Burton, The King's English, Salt Lake City, UT
Description
---

A moving and exquisite testament to one of the literary world's most celebrated marriages: that of the greatest playwright of our age, Harold Pinter, and the beautiful and famous prize-winning biographer Antonia Fraser.
Based on Fraser's recollections and the diaries she has kept since October 1968, Must You Go? is the story of a thirty-year marriage, beginning with their initial meeting when Fraser was the wife of a member of Parliament and Pinter was married to a distinguished actress, and ending with Harold's tragic death after battling illness for many years. In between, we hear firsthand the joy of their love and partnership, as well as the mutual devotion both felt towards their work and the creative process. Courageous, powerful, and extraordinarily compelling, Must You Go? is a love story and a marvelously insightful account of the pleasures of married love.

About the Author
---
ANTONIA FRASER is the author of many internationally bestselling historical works, including Love and Louis XIV, Marie Antoinette, which was made into a film by Sofia Coppola, The Wives of Henry VIII, Mary Queen of Scots, and Faith and Treason: The Story of the Gunpowder Plot. She has received the Wolfson Prize for History, the 2000 Norton Medlicott Medal of Britain s Historical Association, and the Franco-British Society s Enid McLeod Literary Prize. She was made a Dame for services to Literature in 2011."
Praise For…
---
"Bold, intimate. . . . A deliciously detailed account of living in the thick of creativity and fame." –Entertainment Weekly, A

"Fond and affecting. . . . . Full of glowing fragments. . . . There's hardly a dull page." –The New York Times

"[An] extremely interesting book. . . . Wit the publication of this enchanting memoir, she has more than discharged her loving obligation to this distinguished man." –The Washington Post

"Entertaining and ultimately touching in its determination to recapture lost time, to portray a younger, more carefree self and to bring back a lost loved one, if only on the page." —Francine Prose, The New York Times Book Review
 
"A stirring celebration of what Fraser, reflecting near the end of Pinter's life, observed as a union 'to the infinite degree happy beyond all possible expectations.'" —The New Yorker
 
"Fond and touching. . . . A crisp, clear-eyed portrait of a shared life of creative work, political activism, wide-ranging travels, family. . . . Theirs was a fine romance, and Fraser shares that with us." —The Seattle Times
 
"Extraordinary by any standards. . . . It is simultaneously a love story, an intimate portrait of a great writer and an exercise in self-revelation." —The Guardian (UK)
 
"Immediate and absorbing. . . . In creating such a finely wrought picture of a man who was both one of the great playwrights of the 20th century and the love of her life, she deploys her own talents." —San Francisco Chronicle
 
"It takes a daring biographer to turn her sharp eye on her own life as Antonia Fraser does so movingly and beautifully in her memoir." —Tina Brown, The Daily Beast
 
"Romantic, poignant and very funny." —The Times (London)
 
"Rises above arty, upper-crust gossip, elevated largely by Fraser's observational skills." —Plain Dealer
 
"A sweet look at a limelit marriage that offers insight even as it opens a revealing window. . . . An extraordinary look into one rich love." —Philadelphia Inquirer
 
"[Written] with exemplary clarity and courage. . . . Fraser keeps her gaze steady and her heart open." —The Independent (London)
 
"Moving. . . . A remarkably frank and tender record of a fulfilling and creative life lovingly shared." —Richmond Times-Dispatch
 
"Heartfelt. . . . An engrossing, anecdote-rich feat for theater lovers whose tastes extend beyond the glitter of Broadway." —Charles Isherwood, The New York Times