The Stranger's Child (Paperback)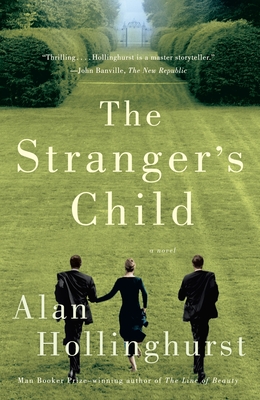 Description
---
From the Man Booker Prize-winning author of The Line of Beauty a magnificent, century-spanning saga about a love triangle that spawns a myth, and a family mystery, across generations.
In the summer of 1913, George Sawle brings his Cambridge schoolmate a handsome, aristocratic young poet named Cecil Valance to his family's home outside London. George is enthralled by Cecil, and soon his sister, Daphne, is equally besotted by him. That weekend, Cecil writes a poem that, after he is killed in the Great War and his reputation burnished, will become a touchstone for a generation, a work recited by every schoolchild in England. Over time, a tragic love story is spun, even as other secrets lie buried until, decades later, an ambitious biographer threatens to unearth them.

About the Author
---
Alan Hollinghurst is the author of the novels The Swimming-Pool Library, The Folding Star, The Spell and The Line of Beauty, which won the Man Booker Prize and was a finalist for the National Book Critics Circle Award. He has received the Somerset Maugham Award, the E. M. Forster Award of the American Academy of Arts and Letters and the James Tait Black Memorial Prize for Fiction. He lives in London.
Praise For…
---
"Remarkable. . . . Daring. . . . Fresh and vital."
—Thomas Mallon, The New York Times Book Review
 
"Hollinghurst is a master storyteller. . . . For the daring of its setting out, and for the consistent flash and fire of the writing, The Stranger's Child is to be cherished."
—John Banville, The New Republic
 
"At once classically literary and delightfully, subversively modern. . . . It's a thrilling, enchanting work of art."
—San Francisco Chronicle
 
"Brilliant. . . . Hollinghurst [has] a truly Jamesian fineness of perception. . . . [He is] one of the best novelists at work today."
—The Wall Street Journal

"A sly and ravishing masterpiece."
—Cleveland Plain Dealer
 
"Magnificent. . . . Hollinghurst explores how a living, breathing existence can become a biographical subject riddled with omissions and distortions. . . . His immersion in each period is fluid and free of false notes, collectively fusing into a single symphonic epic. . . . A beautifully written, brilliantly observed and masterfully orchestrated novel."
—The Seattle Times
 
"Hollinghurst writes with the relaxed elegance and unobtrusive charm of a Cary Grant. Part social history, part social comedy and wholly absorbing, The Stranger's Child does everything a novel should do and makes it look easy."
—The Washington Post
 
"Vibrant. . . . Sparkling. . . . Witty and ultimately very moving. . . . There are echoes of E. M. Forster, Evelyn Waugh, Elizabeth Bowen and others, but The Stranger's Child is a Great English Novel in its own right, and a tantalizing read."
—Newsday
 
"Masterful. . . . Psychologically penetrating. . . . Hollinghurst is a superior novelist of manners, and the brilliance of The Stranger's Child is in how it reveals the ways bad blood and secrets muck with history."
—Minneapolis Star Tribune
 
"Beautifully written, ambitious in its scope and structure, confident in its execution, The Stranger's Child is a masterclass in the art of the novel."
—The Times Literary Supplement
 
"Hollinghurst writes like Henry James, but without the obfuscation; his gorgeous sentences home in on the delicate nuances of human relationships but don't sacrifice the larger social canvas along the way."
—Chicago Tribune
 
"Erudite, stylish, very amusing. . . . A novelist with a historian's engrossment in the past and a critic's sensitivity to taste and judgment, Hollinghurst is an aficionado of the English literary heritage [and] in The Stranger's Child, that bookish fascination envelops every aspect of the novel."
—Bookforum
 
"Hollinghurst imaginatively insists that our literary tradition would be unrecognizably depleted without the submerged current of homosexuality. . . . The Stranger's Child itself is the culmination of not only Hollinghurst's ambition but that secret literary tradition to which it is addressed."  
—Geoff Dyer, New York Magazine
 
"Charming. . . . Perfect. . . . Hollinghurst writes so carefully and subversively, often with one eyebrow raised in sardonic amusement as he satirizes the excesses of his mostly high-born protagonists."
—Financial Times