The Little Book of Big Savings: 351 Practical Ways to Save Money Now (Paperback)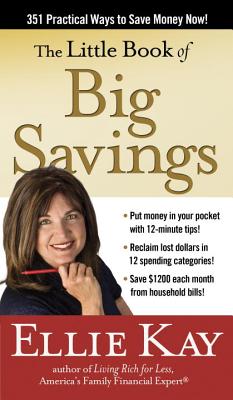 Description
---
Be richer by this time tomorrow

Every month you spend money in twelve major categories. And at the end of each month, you scratch your head and wonder, Where did it all go?

In The Little Book of Big Savings, America's Financial Expert,® Ellie Kay, will help you uncover the extra cash just waiting to be found in every area of your life. Not only will you never again wonder where your cash went, you will have extra to save–and even to share.

Don't mindlessly let hundreds of dollars slip out of your ATM every month. Ellie's practical advice will show you:

•How one phone call could save you $500 a year or more
•How your kids can get a great education without breaking the bank
•Three ways your water heater can save you money
•Why giving away money is one of the best ways to save it
•How to save up to 50% on your online purchases

Plus hundreds of other tips that will loosen your budget without sacrificing your lifestyle. Soon you'll find what you want the most when it comes to your finances: peace of mind.
About the Author
---
Ellie Kay is the best-selling author of "Half-Priced Living" and eleven other titles, including "A Tip A Day with Ellie Kay" and" The Debt Diet," with more than 350,000 books sold. She's a regular television guest on CNBC's "Power Lunch," Fox News, and CNN; and has been the featured family finance expert in numerous magazines and newspapers, including "Family Circle, Women's World, " and "USA Today." Her financial help columns appear in a dozen periodicals and online, including CBN.com. A popular speaker, she's Wal-mart's official financial help expert, and has served as a consumer educator and official spokesperson for Proctor & Gamble, VisaProvidian, MasterCard, and more. Ellie and her husband, Bob, are the parents of seven children and live in Palmdale, California."

"