This Little Prayer of Mine (Hardcover)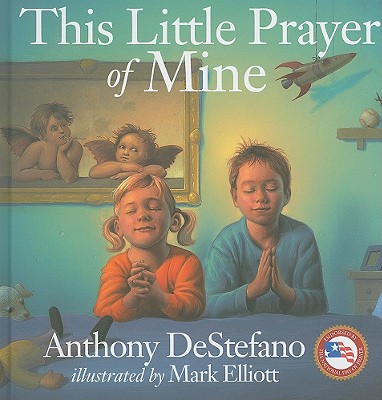 Description
---
Nothing Compares to Childlike Faith
 
I know you're up in heaven, God,
and can hear my voice from there.
I'm just a little child.
Will you answer my short prayer?

So begins this delightful book that affirms God's readiness to answer our prayers, no matter what our age. 

With engaging rhymes and beautiful illustrations, This Little Prayer of Mine assures children that God is always near--watching, listening, caring, and eager to respond to their requests. They'll also learn that prayer isn't just about asking for things, but about sharing their feelings of sadness and uncertainty as well as of thanksgiving and joy.

Most importanly, This Little Prayer of Mine reminds children—and those who love them—that they can trust God to tenderly care for them, no matter what the future holds.
About the Author
---
Anthony DeStefano's books "Ten Prayers God Always Says Yes To" and "A Travel Guide to Heaven" have sold a quarter-million copies. He has received prestigious awards from religious organizations worldwide for his efforts to advance Christian beliefs in modern culture.

Mark Elliott's brilliant illustrations have appeared in many picture books and novels for young readers, including Gail Carson Levine's ever-popular""Princess Tales series. His acclaimed artwork delivers inspiration, wonder, and timeless beauty on every page.
Praise For…
---
Praise for This Little Prayer of Mine
"Developing friendship with God and dependency on Him is best cultivated when still a child.  Anthony DeStefano's This Little Prayer of Mine is a great tool for parents to use to help their youngsters learn to talk to God and begin to grow in their relationship with Him even at an early age." 
— John Bornschein, executive director, National Day of Prayer Task Force

"In an increasingly hectic world, burdens can weigh heavily on even the youngest heart.  This Little Prayer of Mine offers a wonderful reminder about the source of joy and peace, and will draw children nearer to God.  They will learn of His love and care for every detail of their lives – a crucial foundation for a life of faith!"
— Danae Dobson, coauthor of Parables for Kids, Daughter of Dr. James Dobson and Shirley Dobson

"Anthony DeStefano has done it again. This Little Prayer of Mine reaches a younger audience and encourages the little ones to develop a prayer life and hear the voice of God.  As a talk show host I recommend this book as an excellent resource for the home and the Church community."
— Theresa Tomeo, radio host EWTN Global Radio

"Everyday we must live in a close trusting relationship with God, always looking to Him for comfort and direction through prayer. This Little Prayer of Mine is the springboard for helping children to establish that type of life-long relationship with our Heavenly Father.  Both parents and children alike will praise Anthony DeStefano for this amazing little book."
— Bernice A. King, Daughter of Martin Luther King, Jr. & Coretta Scott King

"Other than breathing, there is nothing more important for any child to learn – and learn deeply and well -- than to pray.  Talking with God should be as easy and natural as breathing and as necessary.  What a blessing Anthony DeStefano's little book is!"
— Pat and Shirley Boone, entertainers

"What a grace-filled little book! Children who read Anthony DeStefano's simple yet profound words will gain the confidence that God loves them, individually and personally, through all eternity.  It doesn't get any better than this, dear parents! Amen!"
—Barbara McGuigan, EWTN Voice of Virtue International