Living Rich for Less: Create the Lifestyle You Want by Giving, Saving, and Spending Smart (Hardcover)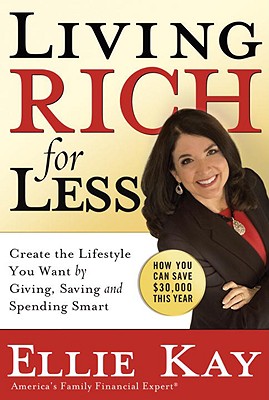 Description
---
You really can be rich in every way, every day.
So you want to own the home you love, make memories on wonderful vacations with family or friends, finance college educations, and help others too?
You can starting here and now.
With lively humor, proven know-how, and practical principles for financial health, Living Rich for Less helps you stretch your dollars to realize the lifestyle of your dreams. Ellie Kay's entertaining and enlightening examples show you simple steps to save, spend, and give smart, and her three main principles are undergirded by dozens of effective rules and hundreds of Cha-Ching Factor tips that keep or put money in your pocket.
Ellie knows what it's like to be financially-strapped or struggling, wanting to be the Joneses but feeling as poor in spirit as in pocketbook. She went, within two and a half years, from being a new wife and mom with $40,000 in consumer debt and seven children (and college educations) to support, to being completely debt-free and within fifteen years able to pay cash for eleven different cars, give away three of those cars, buy two five-bedroom houses (moving from one to the other) and nicely furnish each, take wonderful vacations, dress her family in fine fashion; and support more than thirty non-profit organizations in more than a dozen different countries, giving away more than $100,000.
Isn t that the kind of transformation to a rich life that you want?

Living Rich for Less helps anyone get there in our taxed-out, maxed-out times. Because financial security doesn t mean just genuine prosperity, but being able to live luxuriously, give generously, and care for yourself as well as the others around you.

Why keep up with the Joneses when you can be them?

About the Author
---
Ellie Kay is the best-selling author of Half-Priced Living and eleven other titles, including A Tip A Day with Ellie Kay and The Debt Diet, with more than 350,000 books sold. She s a regular television guest on CNBC s Power Lunch, Fox News, and CNN; and has been the featured family finance expert in numerous magazines and newspapers, including Family Circle, Women s World, and USA Today. Her financial help columns appear in a dozen periodicals and online, including CBN.com. A popular speaker, she s Wal-mart s official financial help expert, and has served as a consumer educator and official spokesperson for Proctor & Gamble, VisaProvidian, MasterCard, and more. Ellie and her husband, Bob, are the parents of seven children and live in Palmdale, California."
Praise For…
---
"Suze Orman, you've got a powerhouse who just moved in next door! Ellie Kay is a financial expert whose time has come. Her advice is for Mr. and Mrs. America and not just Wall Street. If you live on Main Street, you need to meet your new neighbor, Ellie Kay, who's spiked the Koolaid with the wakeup juice that mainstream America needs in order to survive today's money woes and tomorrow's future challenges. I love this book more than a bowl of fat grams."
– Dr. Kevin Leman, best-selling author of Have a New Kid by Friday

"Ellie Kay makes complicated financial concepts understandable. Heeding her advice will give you an extraordinary quality of life as you learn the secrets of living and giving in a way that multiples your resources."
–Carol Kent, best-selling author A New Kind of Normal and president of Speak Up Speaker Services


"We feel richer already! Ellie Kay gives a billfold full of ideas to help place more money back into your pockets! With three kids in college, and retirement on the horizon, Ellie's wisdom is a wealth of encouragement, comfort, and practical proven helps."
–Pam and Bill Farrel, international speakers, best-selling authors of Men are like Waffles, Women are like Spaghetti, and Ten Best Decisions a Couple Can Make


"Ellie work, helping us be better stewards, is one of the great services to families across our nation."
–Dennis Rainey, executive director and radio host of Family Life

"Ellie is amazing! I don't think she ever sleeps! She provides great information and is always a fun guest on the show."
–Bill Griffith, host of CNBC's Power Lunch

"Ellie is the gateway to mainstream America."
–Marc Myers, money columnist, Reader's Digest

"A splendid example of the far-reaching and positive impact that an individual with vision and faith can make in our world. Thank God to people like her who are a tremendous inspiration!"
–Dr. Robert H. Schuller, The Crystal Cathedral and television host of Hour of Power

"Ellie provides an amazing abundance of helpful and insightful information."
–Dr. Norm Wright, best-selling author and licensed marriage, child and family therapist

"She makes things simple so even I can understand it."
–Dr. Kevin Leman, best-selling author of Making Your Children Mind Without Losing Yours and Have a New Kid By Friday

"The debt mentality in our society is rampant, and people are desperate. Ellie hits the nail on the head by defining those struggles and offering practical solutions in a remarkably clear way."
–Howard Dayton, CEO, Crown Financial Ministries

"A gifted communicator…interesting, educational, and very helpful. I recommend her work wholeheartedly to any family in America."
–Ron Blue, president CFP Network

"Provides the world's most practical information on family finances. She gives real answers for real people dealing with real finances in a real world."
–Phil Waldrep, author of Parenting Prodigals