Let the Eastern Bastards Freeze in the Dark: The West Versus the Rest Since Confederation (Paperback)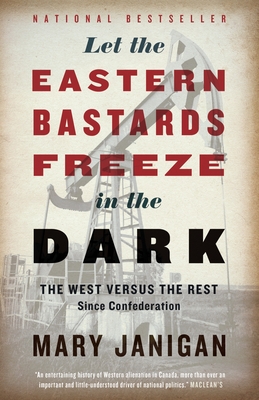 Description
---
The first big book on one of the most overlooked episodes in Canadian history, and the origin of today's greatest national debate, Let the Eastern Bastards Freeze in the Dark relives the 1918 attempt by 3 premiers to wrest control of their natural resources away from Ottawa--and end their role as second-class provinces.
 
The oil sands. Global warming. The National Energy Program. Though these seem like modern Canadian subjects, Mary Janigan reveals them to be a legacy of longstanding regional rivalry. Something of a "Third Solitude" since entering Confederation, the West has long been overshadowed by Canada's other great national debate. But as the conflict over natural resources and their effect on climate change heats up, 150 years of antipathy are coming to a head. Janigan takes readers back to a pivotal moment in 1918, when Canada's western premiers descended on Ottawa determined to control their own future--and as Margaret MacMillan did in Paris 1919, she deftly illustrates how the results reverberate to this day.
About the Author
---
MARY JANIGAN is a journalist who has written extensively about Canadian public policy, including politics and economics, for the "Toronto Star," "Maclean's "and the "Globe and Mail." She has won the prestigious Hy Solomon Award for policy analysis, and the National Newspaper Award for her clause-by-clause scrutiny of proposed Constitution changes. She has never lost her curiosity, and she has always wanted to understand how the blunders and triumphs of the past complicate the present. She lives in Toronto, but travels as much as she can, at the flicker of a passport.
Praise For…
---
LONGLISTED 2014 – RBC Taylor Prize

"One of the first authoritative looks at the struggle over resources with the Rest of Canada that has plagued the West since the mid-19th century. This is an important book that explains so much of today's debates."
—The Honourable Peter Lougheed, former premier of Alberta
 
"Mary Janigan sheds some light on just how deeply the resentment underlying [the Conservatives' carbon-tax] strategy runs in her new book. . . . As long as Conservatives believe there are votes to be won, it's worth poking ancient regional wounds. After all, as Janigan all too ably demonstrates, this is the Canadian way."
—Canadian Business
 
"A necessary and timely addition to the ongoing debate around the current rise of the West and its conservative brand of politics."
—Toronto Star