An Incomplete and Inaccurate History of Sport (Paperback)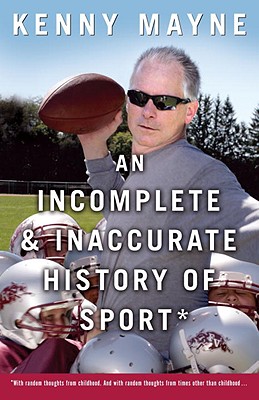 Description
---
Part sports dictionary, part memoir, part factual, and part completely made up a history of the world's most beloved sports.
Kenny Mayne is the little man who seems to live inside your TV. From hosting ESPN's SportsCenter since 1995, announcing major events like the Kentucky Derby, his weekly pregame segments for ESPN's Sunday NFL Countdown called The Mayne Event, and his reality-TV life on Dancing with the Stars and Fast Cars & Superstars to his ubiquitous commercials for companies such as Top-Flite and GMC, you practically can t go a day without seeing Kenny on your screen.
Herein, Kenny has escaped the TV screen to bring his irreverent (bordering on surreal) sensibility to the printed page. Part nostalgic memoir (like the summer neighborhood kid Mark Sansaver hit 843 home runs in backyard Wiffle ball), part Dave Barry esque riffs (like explaining bocce to non-Italians), part scholarly tract (includes the origins of tackle football), and part metafiction (see Time-outs ) . . . all with illustrations drawn by Kenny's daughters, "An Incomplete and Inaccurate History of Sport "is what Kenny calls his anti coffee-table book, or Coaster.
Kurt Vonnegut never wrote a book about sports. This one will do just fine.
Daily Racing Form.
About the Author
---
KENNY MAYNE is one of the most beloved SportsCenter anchors of all time. He hosted the ESPN show 2 Minute Drill and stars on Sunday NFL Countdown in a segment called The Mayne Event. In October 2008, Mayne began starring in ESPN s first-ever scripted Web series, Mayne Street. Kenny plays a fictional Kenny in a series of fictional stories about fiction and truth. A lot like this book."