The Game of Opposites (Paperback)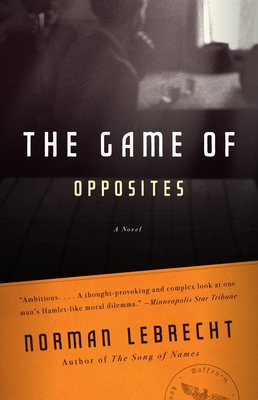 Description
---
In an unnamed country at the end of a world war, Paul Miller escapes from a labor camp, collapsing after a few hundred feet. Taken in by a young woman he learns to love, Paul decides to stay where he is, and, as the war ends, he marries, starts a family, and helps to rebuild the village. But Paul is inescapably haunted by his life before the war, by his time in the camp, and by the fact that the people who are now his friends ignored for years the horrors in their midst. So when the camp's commander suddenly returns to the village, Paul finds himself forced to choose between vengeance and forgiveness. "The Game of Opposites "is a universal tale of good and evil, and a stunning evocation of the capability for both within us all.
About the Author
---
Norman Lebrecht is the author of eleven books about music, including the international bestsellers "The Maestro Myth "and" Who Killed Classical Music?" He is a music columnist for the London "Evening Standard," a cultural commentator on Bloomberg.com, and presenter of The Lebrecht interview series on BBC Radio 3 in Great Britain. He lives in London.

Visit the author's website at www.normanlebrecht.com.
Praise For…
---
"Ambitious. . . . A thought-provoking and complex look at one man's Hamlet-like moral dilemma."
—Minneapolis Star-Tribune

"Norman Lebrecht is an original writer concerned with large moral questions, and admirably skeptical of accepted truths about human behavior and motivation. The Game of Opposites pushes the reader beyond the simplistic safety zone of moral category (good, evil; moral, immoral) into complex, dramatically compelling terrain. Reading this novel is like hearing a familiar song in a startling new voice."
—John Burnham Schwartz, author of The Commoner and Reservation Road

"Original and poignant. . . . Lebrecht is a fluid, beautiful writer. . . . He tackles a large moral dilemma and creates a page-turner from it."
—Baltimore Jewish Times

"A compelling and deeply human novel of ideas that examines the toll of World War II, fascism, and the Holocaust. It is a tale of simple survival and, more importantly, a meditation on good, evil, guilt, love, rage, and the panoply of emotions that roil the lives of survivors. Unforgettable."
—Booklist (starred review)