Resistance (Paperback)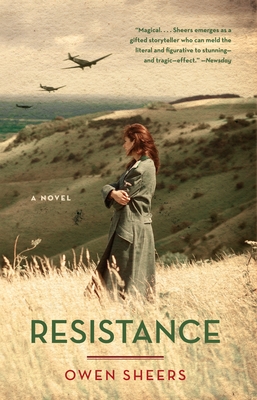 $14.95
Usually Ships in 1-5 Days
Description
---
Resistance" "is a beautifully written and powerful story set during an imagined occupation of Britain by Nazi Germany in World War II.
In a remote and rugged Welsh valley in 1944, in the wake of a German invasion, all the men have disappeared overnight, apparently to join the underground resistance. Their abandoned wives, a tiny group of farm women, are soon trapped in the valley by an unusually harsh winter along with a handful of war-weary German soldiers on a secret mission. The need to survive drives the soldiers and the women into uneasy relationships that test both their personal and national loyalties. But when the snow finally melts, bringing them back into contact with the war that has been raging beyond their mountains, they must face the dramatic consequences of their choices.
About the Author
---
Owen Sheers, born in Fiji in 1974 and brought up in Abergavenny, South Wales, was the 1999 winner of both an Eric Gregory Award and the Vogue Young Writer s Award. His first collection of poetry, The Blue Book," " was short-listed for the Wales Book of the Year and the 2001 Forward Poetry Prize. His debut prose, The Dust Diaries," "a nonfiction narrative set in Zimbabwe, was short-listed for the Royal Society of Literature s Ondaatje Prize and won the 2005 Wales Book of the Year. In 2004 he was writer in residence at the Wordsworth Trust and was selected as one of the Poetry Book Society s 20 Next Generation Poets. His second collection, Skirrid Hill," "won a Society of Authors Somerset Maugham Award. Sheers is currently a Fellow of the New York Public Library s Dorothy and Lewis B. Cullman Center for Scholars and Writers. Resistance is his first novel, and he is working on a second. His website is www.owensheers.co.uk"
Praise For…
---
"Magical. . . . Sheers emerges as a gifted storyteller who can meld the literal and figurative to stunning—and tragic—effect."
—Newsday

"An astonishing and compelling study of human nature against the backdrop of an occupied village. Sheers plumbs the depths of love, cowardice, bravery, and the devastating effects of blind patriotism, and in doing so exposes the best and worst of humanity in unexpected and haunting ways."
—Sara Gruen, author of Water for Elephants

"Subtle and lyrical. . . . Emotionally complex, full of local rhythms and color, Sheers' first novel is hard to resist."
—USA Today

"In its most surprising moments [Resistance] demonstrates fiction's unique power [to] remind us how complicated and compromising an actual act of resistance might be."
—The New York Times Book Review

"Sheers's alternate reality is frighteningly convincing and dripping with heartbreak. This is an outstanding debut."
—Publishers Weekly (starred review)

"A remarkable first novel…Resistance is at once a brilliant and sometimes frightening thriller, and a mature exploration of human blur and compromise."
—The Guardian

"Resistance [is] an impressive debut and confirms Sheers as a writer whose talent encompasses a variety of literary forms."
—Observer

"A beautiful, vital novel, about the paths that can lead to war, and out of it."
—Nadeem Aslam, author of Maps for Lost Lovers

"A remarkable work of speculative imagination. Sheers writes with an austere, bracing beauty perfectly attuned to the stark lives (and loves) of his characters. The result is that rare gift, a literary thriller whose pages we turn slowly, even regretfully, savoring every word."
—Peter Ho Davies, author of The Welsh Girl

"Owen Sheers's riveting debut novel beautifully illuminates that which is unalterable: the power of love and longing, community and courage."
—Jennifer Vanderbes, author of Easter Island