Netherland (Hardcover)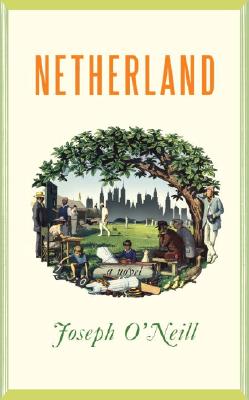 Fall '09/Winter '10 Reading Group List
---
"Hans van den Broek, the narrator of Joseph O'Neill's rich, beautifully written novel, finds his life and his marriage breaking down in post-9/11 New York City. When Hans is drawn into the world of league cricket games, he begins a friendship with Chuck Ramkissoon, a Trinidadian expat and a somewhat delusional self-promoter and part-time gangster -- that helps carry him through the dark times. The pure voice of Hans rolls along so smoothly and precisely that, in the end, it is difficult to imagine Hans not at your side."
— Ray Nurmi, Snowbound Books, Marquette, MI
Indie Next List Highlights 2008
---
"In a wonderful understated tone, Netherland tells the story of how Hans, a Dutch banker in New York, tries to cope in the city after his wife and son flee to the UK in the wake of 9/11. Unmoored, but still generous at heart, he is brought back to a sense of his life and choices thanks to the colorful characters of New York City and its vibrant cricket community."
— Marie du Vaure, Vroman's Bookstore, Pasadena, CA
Description
---
In a New York City made phantasmagorical by the events of 9/11, Hans--a banker originally from the Netherlands--finds himself marooned among the strange occupants of the Chelsea Hotel after his English wife and son return to London. Alone and untethered, feeling lost in the country he had come to regard as home, Hans stumbles upon the vibrant New York subculture of cricket, where he revisits his lost childhood and, thanks to a friendship with a charismatic and charming Trinidadian named Chuck Ramkissoon, begins to reconnect with his life and his adopted country. Ramkissoon, a Gatsby-like figure who is part idealist and part operator, introduces Hans to an "other" New York populated by immigrants and strivers of every race and nationality. Hans is alternately seduced and instructed by Chuck's particular brand of naivete and chutzpah--by his ability to a hold fast to a sense of American and human possibility in which Hans has come to lose faith.

Netherland gives us both a flawlessly drawn picture of a little-known New York and a story of much larger, and brilliantly achieved ambition: the grand strangeness and fading promise of 21st century America from an outsider's vantage point, and the complicated relationship between the American dream and the particular dreamers. Most immediately, though, it is the story of one man--of a marriage foundering and recuperating in its mystery and ordinariness, of the shallows and depths of male friendship, of mourning and memory. Joseph O'Neill's prose, in its conscientiousness and beauty, involves us utterly in the struggle for meaning that governs any single life.
About the Author
---
Joseph O'Neill was born in Cork, Ireland, in 1964 and grew up in Mozambique, South Africa, Iran, Turkey, and Holland. His previous works include the novels This is the Life and The Breezes and the non-fiction book Blood-Dark Track, a family history centered on the mysterious imprisonment of both his grandfathers during World War II, which was an NYT Notable Book. He writes regularly for "The Atlantic." He lives with his family in New York City.
Praise For…
---
Advance Praise for Netherland

"New York is not what most people imagine it to be.  Just as marriage, family, friendship and manhood are not.  Netherland is suspenseful, artful, psychologically pitch-perfect, and a wonderful read.  But more than any of that, it's revelatory.  Joseph O'Neill has managed to paint the most famous city in the world, and the most familiar concept in the world (love) in an entirely new way."
--Jonathan Safran Foer, author of Everything Is Illuminated

"A dense, intelligent novel... O'Neill offers an outsider's view of New York bursting with wisdom, authenticity, and a sobering jolt of realism."
--Publisher's Weekly (starred review)

"O'Neill writes a prose of Banvillean grace and beauty, shimmering with truthfulness, as poised as it is unsettling. He is a master of the long sentence, of the half-missed moment, of the strange archaeology of the troubled marriage. Many have tried to write a great American novel. Joseph O'Neill has succeeded."
--Joseph O'Connor, author of Star of the Sea

"Somewhere between the towns of Saul Bellow and Ian McEwan, O'Neill has pitched his miraculous tent. Netherland is a novel about provisionality, marginality; its registers are many, one of the most potent being its extremely grown-up nostalgia. The dominant sense is of aftermath, things flying off under the impulse of an unwanted explosion, and the human voice calling everything back."
--Sebastian Barry, author of A Long Long Way