The Baby's Table: Over 150 Easy, Healthy and Tasty Recipes Your Baby Will Love (Paperback)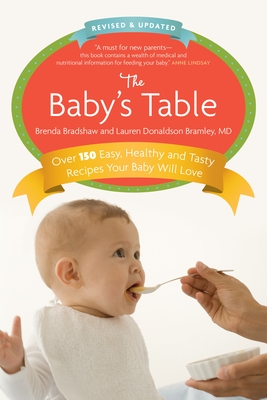 Description
---
Baby's hungry And when it comes to mealtime, nothing is better than food you prepare yourself. Newly revised and updated to comply with health Canada's current guidelines on infant feeding, The Baby's Table shows how easy it is to prepare delicious and healthy meals for the little ones in your life. The more than 150 recipes showcase whole foods and fresh ingredients, and have no added sugar or salt, not to mention the trans fat, starches and fillers found in many commercially prepared jarred baby foods. There are also lots of great tips and ideas, as well as important advice on:
breastfeeding, formula feeding and weaning your baby
introducing solid foods
assessing food intolerances and allergies
vitamin supplements
and much more.
Written by an elementary school teacher and a medical doctor in response to patient demand and their own needs as parents, The Baby's Table is the most comprehensive resource available for practical advice on feeding your baby.
About the Author
---
Brenda Bradshaw is an elementary school teacher living in Vancouver. She is co-author of The Good Food Book for Families, an avid cook, and the mother of two.

Dr. Lauren Donaldson Bramley is a registered doctor in Australia, Canada, China and Hong Kong. Dr. Bramley now practices in Hong Kong where she lives with her husband and three children.
Praise For…
---
"A must for new parents – this book contains a wealth of medical and nutritional information for feeding your baby."
— Anne Lindsay
 
"With so many food choices available, many parents become confused about when, how, and what to feed their babies. This book goes a long way toward helping make their choices (and their lives) easier."
— Dr. Richard B. Goldbloom, Professor of Pediatrics, Dalhousie University

"Finally! A book that I will be happy to recommend to my patients."
— Dr. Cheryl Mutch, pediatrician