Nation Maker: Sir John A. MacDonald: His Life, Our Times, Volume 2: 1867-1891 (Paperback)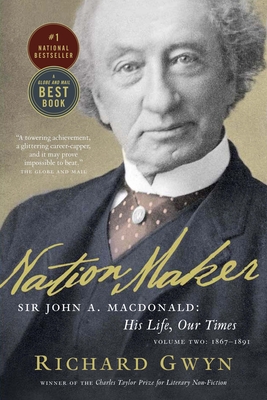 Description
---
#1 NATIONAL BESTSELLER
John A. Macdonald, Canada's first and most important prime minister, is the man who made Confederation happen, who built this country over the next quarter century, and who shaped what it is today. From Confederation Day in 1867, where this volume picks up, Macdonald finessed a reluctant union of four provinces in central and eastern Canada into a strong nation, despite indifference from Britain and annexationist sentiment in the United States.
But it wasn't easy. Gwyn paints a superb portrait of Canada and its leaders through these formative years and also delves deep to show us Macdonald the man, as he marries for the second time, deals with the birth of a disabled child, and the assassination of his close friend Darcy McGee, and wrestles with whether Riel should hang. Indelibly, Gwyn shows us Macdonald's love of this country and his ability to joust with forces who would have been just as happy to see the end of Canada before it had really begun, creating a must-read for all Canadians.
About the Author
---
RICHARD GWYN is an award-winning author and political columnist. He is widely known as a commentator for the "Toronto Star" on national and international affairs and as a frequent contributor to television and radio programs. His books include two highly praised biographies, "Smallwood: The Unlikely Revolutionary "on Newfoundland premier Joey Smallwood, and "The Northern Magus "on Pierre Elliott Trudeau. His book, "Nationalism Without Walls: The Unbearable Lightness of Being Canadian," was selected by the" Literary Review of Canada" as one of the 100 most important books published in Canada.The first volume of Gwyn's biography of Macdonald was published in 2007, became a national bestseller and won the Charles Taylor Prize for Literary Non-Fiction. The author lives in Toronto, ON.
Praise For…
---
WINNER 2012 – Writers' Trust of Canada Shaughnessy Cohen Prize for Political Writing
WINNER 2012 – Dafoe Book Prize
FINALIST 2011 – Charles Taylor Prize for Literary Non-Fiction
FINALIST 2011 – BC National Award for Canadian Non-Fiction
FINALIST 2011 – Governor General's Literary Award for Non-Fiction
FINALIST 2011 – Hilary Weston Writers' Trust Prize for Non-Fiction
A Globe and Mail Best Book

"Gwyn...has given us a first prime minister for the 21st century.... The book is a towering achievement, a glittering career-capper, and it may prove impossible to beat." The Globe and Mail

"Writing with his usual elegance and insight, Richard Gwyn has done full justice to the man whose own story is inextricably interwoven with that of Canada." Margaret MacMillan, author of Paris 1919