Master Sudoku: Step-By-Step Instructions for Players at All Levels (Paperback)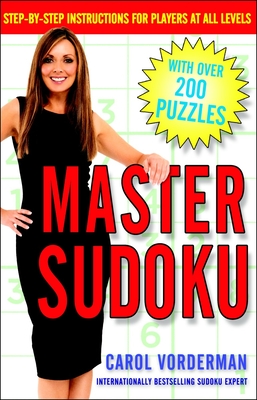 $10.99
Usually Ships in 1-5 Days
Description
---
Master the Numbers Game That's Taking the World by Storm
Whether you re one of the millions of people already obsessed with the number puzzles called Sudoku (a Japanese logic game that's like a combination of a crossword puzzle and a Rubik's Cube) or you re just being introduced to this addicting game, Master Sudoku has a puzzle for you. Here, the UK's leading Sudoku expert, Carol Vorderman, offers 200 puzzles for Sudokuists at every level, ranging from easy to super difficult, with clear instructions and crucial secrets that will help you finish puzzles in record time. The faster you are, the higher your score Engrossing, challenging, and totally addictive, Master Sudoku is chock-full of fun.
About the Author
---
Carol Vorderman is Britain s leading female television host. For twenty-three years she has been known as the Numbers Queen on the hit quiz show Countdown, where she performs mental arithmetic at lightning speed. She has also presented science and technology shows for many years, including BBC TV s Tomorrow s World, as well as top-rated entertainment programs such as Stars and Their Lives. Carol hosted the world s first live Sudoku television show in July 2005. She holds a degree from Cambridge and she is hooked on Sudoku."