Almost a Family: A Memoir (Paperback)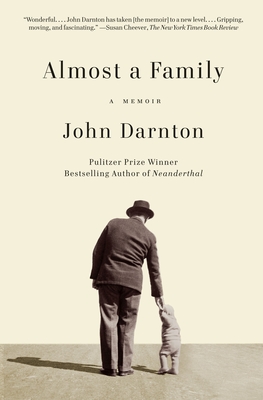 Description
---
From the Pulitzer Prize-winning journalist and best-selling author: a beautifully crafted memoir of his lifelong chase after his father's shadow.
John was eleven months old when his father, Barney Darnton a war correspondent for The New York Times was killed in World War II. John's mother, a well-known reporter and editor, perpetuated a myth of Barney as a hero who gave his life for his family, country, and the fourth estate. Decades after his father's death, John and his brother, the historian Robert Darnton, began digging into the past to discover who the real-life Barney Darnton was. When they did, they found a man who was far different from the story they had grown up with. Intensely moving and vividly descriptive, Almost a Family is the compelling story of one man's search for the truth.
About the Author
---
John Darnton has worked for The New York Times for forty years as a reporter, editor, and foreign correspondent. He is the recipient of two George Polk Awards and a Pulitzer Prize. He is also the author of five novels, including The Darwin Conspiracy and the best seller, Neanderthal. He lives in New York City.
Praise For…
---
 "Wonderful. . . . John Darnton has taken [the memoir] to a new level. . . . Gripping, moving, and fascinating." —Susan Cheever, The New York Times Book Review

"Inspiring. . . . Exciting, deeply felt, evocative of past worlds and times, and full of first-rate reporting. . . . [A] fine book." —Ian Frazier, The New York Review of Books

"Unusually absorbing. . . . Poignant. . . . Unfailingly tasteful and profoundly sympathetic, clear-eyed yet humane." –San Francisco Chronicle
 
"Gripping. . . . Darnton writes with assurance, and the book is structured like a good novel, filled with unexpected twists and turns." —The Washington Independent Review of Books


"Old-school reporting skills and a newspaperman's sensibility are on ample display. [Darnton's] tool box includes spare prose hones under deadline pressure in city rooms and cop shops. At key moments of revelation he forces the reader to set the book down for a moment to absorb the shockers about his parents and their relationship. . . . [Darnton's] thoughtful memoir dives deeper." —The New York Times
 
"A brave, heartbreaking and inspiring story of a son's search for the truth behind the myths he was reared with. It is proof that human beings can be scalded by life and yet come through strong, loving, talented and tough – and still know how to laugh." —Gay Talese, author of A Writer's Life
 
"Exciting, magnetic, moving, and a damn good story." —Alan Furst, author of Spies of the Balkans
 
"A thorough investigative reporting job on [Darnton's] father's life. . . . His newspaper skills coupled with a strong, direct writing style draw the reader into Mr. Darnton's life in an intimate way that few contemporary memoirs can pull off." —Pittsburgh Post-Gazette
 
"Darnton uncovers a more complicated man as he debunks family-entrenched myths about his parents' marriage and the circumstances of his father's death. He writes tenderly about his mother's loneliness and her bouts with alcoholism." —The New Yorker
 
"Written with elegance, rigor and nostalgia, John Darnton's superb evocation of his father's death as war correspondent in the Pacific and his influence on his life as a foreign correspondent will move and enchant." —Elie Wiesel, author of Night
 
"Remarkable. . . . With immense tenacity he has followed every lead and answered every answerable question about his father, about his mother, about their relationship, and about the incident in New Guinea, while telling the story of his own stressful childhood and adolescence." —Columbia Journalism Review
 
"Bravo, John Darnton. . . . [A] crisp, literate, and terrifically frank examination into the nature of his own idetntity. . . . Read this book—and when you're done, give it to your children." —Chronogram
 
"Two haunting narratives, a sobering account of a fatherless childhood and of the relentless pursuit of evidence about a man [Darnton] longed to know." —The Boston Globe

 "Mesmerizing... One of America's finest journalists embarks on a mission to separate truth from myth in the life and death of his father.  A brilliant memoir with surprising twists and turns."
—Gene Roberts, author of The Race Beat

"Compelling. . . . Darnton, author of several best-selling novels,  deconstructs wartime and personal drama with the powerful combination of a seasoned journalist's instincts and an aching son's need to know. He's written a brave and beautiful book." --Julie Salamon, Salon