American Priestess: The Extraordinary Story of Anna Spafford and the American Colony in Jerusalem (Paperback)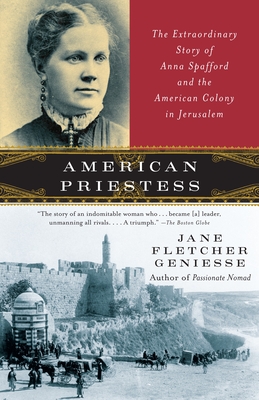 Description
---
For generations, The American Colony Hotel in Jerusalem has been a well-known retreat for journalists, diplomats, pilgrims and spies. However, few know the story of Anna Spafford, the enigmatic evangelist who was instrumental in its founding
Branded heretics by Jerusalem's established Christian missionaries when they arrived in 1881, the Spaffords and their followers nevertheless won over Muslims and Jews with their philanthropy. But when her husband Horatio died, Anna assumed leadership, shocking even her adherents by abolishing marriage and establishing an uneasy dictatorship based on emotional blackmail and religious extremism.
With a controversial heroine at its core, American Priestess provides a fascinating exploration of the seductive power of evangelicalism as well as an intriguing history of an enduring landmark.
About the Author
---
JANE FLETCHER GENIESSE, a former reporter for the" New York Times," researched "American Priestess" for seven years. Her biography of Freya Stark, "Passionate Nomad," was a "New York Times" Notable Book and a finalist for the PEN/Martha Albrand Award. She lives in Florida and Washington, D.C. "From the Hardcover edition."
Praise For…
---
"The story of an indomitable woman who . . . became [a] leader, unmanning all rivals. . . . A triumph." –The Boston Globe

"Lively. . . . The Jerusalem years have the quality of a Hollywood epic." –The New York Times Book Review

"[Geniesse's] skillfully crafted narrative is always readable as it chronicles Anna's often brutal manipulation of her followers." –The Washington Post Book World

"A vivid picture of a dedicated cult's search for answers in the Holy Land and of the tense relationships of religious groups in Jerusalem." –Janet Wallach, author of Desert Queen: The Extraordinary Life of Gertrude Bell

"[A] fascinating story of the Spaffords and their quixotic enterprise." –The Washington Times

"It is surprising and ironic that although the American Colony Hotel is favored by visiting journalists, none has ever before written a book about its unusual origins. Geniesse has now ably filled that gap." –The Jerusalem Post

"Geniesse relates a tale that is as sweeping and epic in its scope as anything Edna Ferber wrote. . . . Fantastic." –Rockland Free Press

"An engaging and enlightening account. . . . The author's fascinating psychological profiles of Horatio and, especially Anna, dovetail seamlessly with her account of the Overcomers' rise and inevitable demise." –Louisville Courier-Journal

"Stunning–impressively researched and beautifully told." –Jim Lehrer

"Colorful. . . . A fascinating insight into the upsurge in the late 1800s of 'pre-millennial' religious movements. . . . American Priestess is a great read–well written, thoroughly researched, and full of fascinating anecdotes." –Internet Review of Books
  
"A vivid portrait of both a woman and a region on the cusp of transformation." –Booklist

"Geniesse's prose powerfully re-creates the terrors of shipwreck and of living through fire and war as well as the sights, sounds, and smells of everyday life in Chicago and Old Jerusalem. In Anna Spafford, Geniesse has created a charismatic, complex, and commanding figure as compelling as any fictive heroine." –Sena Jeter Naslund, author of Ahab's Wife