The Devil and Sherlock Holmes: Tales of Murder, Madness, and Obsession (Paperback)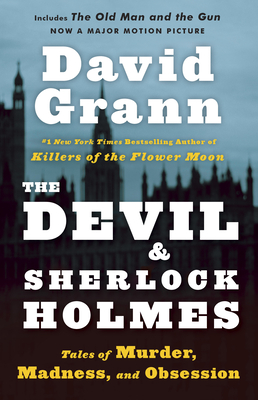 Description
---
From the bestselling author of The Lost City of Z comes this gripping (The Miami Herald) and hilarious (EW) collection of real-life mysteries about people whose obsessions propel them into unfathomable and often deadly circumstances.
Whether David Grann is investigating a mysterious murder, tracking a chameleon-like con artist, or hunting an elusive giant squid, he has proven to be one of the most gifted reporters and storytellers of his generation. In The Devil and Sherlock Holmes, Grann takes the reader around the world, revealing a gallery of rogues and heroes with their own particular fixations who show that truth is indeed stranger than fiction.
About the Author
---
David Grannis a staff writer atThe New Yorkerand the bestselling author ofThe Lost City of Z, which has been translated into more than twenty languages. His stories have appeared in many anthologies of the best American writing, and he has written forThe New York Times Magazine, TheAtlantic, The Washington Post, TheWall Street Journal, andThe New Republic."
Praise For…
---
"Horrifying, hilarious, and outlandish. . . . These straightforward tales grip you as unrelentingly as the suckered appendages of the giant squid Grann attempts to track down in 'The Squid Hunter.'"
—Entertainment Weekly (Grade: A)

"A gripping read. . . . Obsessives get themselves into some interesting places. Grann is the perfect guide to take you there."
—The Miami Herald

"A dozen intricately crafted accounts. . . . Like the best of stories, each carries the spice of intrigue and the momentum of a search. . . . [They] will make your heart race and, at times, ache. They're stories to share with friends, even if Grann can't be there himself."
—Cleveland Plain Dealer
 
"Grann's obsession with how narratives are told is complex and compelling. . . . But it's the basic stories themselves—bizarre and fascinating, bolstered by exhaustive research—that make the book so gripping."
—Time Out New York

"Titillating. . . . Evidence of Grann's abundant talent as a writer."
—Providence Journal
 
"The most powerful essay I read this year was David Grann's 'Trial by Fire.'"
—David Brooks, The New York Times
 
"The truth is always stranger than fiction, even when it comes to murder mysteries. That's the take-home lesson of Grann's latest collection, which brings together 12 stories of real-life mysteries, each one stranger and more gripping than the last."
—The Daily Beast
 
"A gifted storyteller, Grann has a Sherlock Holmesian gift for unearthing facts that are hidden in plain sight, presenting a crystal-clear narrative and letting his compelling cast of characters speak for themselves. . . . Easily worth the price of admission, a visit to Grann's rogue's gallery is likely to leave you with a sense, at once awful and awesome, of the profound desire we all have for recognition."
—The Oregonian

"Beautifully constructed, highly improbably real life reports."
—GQ (UK)

"Eclectic. . . . Haunting. . . . Skilfully crafted. . . . [Grann] does not just tell these bizarre tales, he meets, interviews, gets to know and seems to understand many of his strange subjects."
—The Irish Times
 
"There is humanity in the writing, and it's all the more impressive that Grann manages to evoke it without drawing any attention to himself; his tales are first-person ones, but they don't foreground the writer in that manner so popular among magazine editors today. Indeed, his selflessness as a writer, along with his gentle rectitude, cause him to bear a resemblance to another hero who never hogs the spotlight: Holmes's assistant, Watson. Rarely does modesty produce such stunning results."
—Bookforum
 
"Thoroughly documented, well written and full of surprises."
—Toronto Star
 
"Grann's in-depth reporting and vivid writing make this worthwhile reading for lovers of good journalism."
—Booklist

"Chilling. . . . Poignant. . . . Haunting and gripping. . . . Gets into worlds that are otherwise invisible to us."
—Daily Mail (London)

"Grann is a worthy heir to Truman Capote."
—Le Monde (Paris)