A Bittersweet Season: Caring for Our Aging Parents--and Ourselves (Hardcover)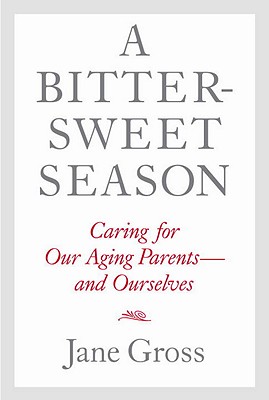 Description
---
Just a few of the vitally important lessons in caring for your aging parent—and yourself—from Jane Gross in A Bittersweet Season

As painful as the role reversal between parent and child may be for you, assume it is worse for your mother or father, so take care not to demean or humiliate them.
Avoid hospitals and emergency rooms, as well as multiple relocations from home to assisted living facility to nursing home, since all can cause dramatic declines in physical and cognitive well-being among the aged.
Do not accept the canard that no decent child sends a parent to a nursing home. Good nursing home care, which supports the entire family, can be vastly superior to the pretty trappings but thin staffing of assisted living or the solitude of being at home, even with round-the-clock help.

Important Facts
Every state has its own laws, eligibility standards, and licensing requirements for financial, legal, residential, and other matters that affect the elderly, including qualification for Medicare. Assume anything you understand in the state where your parents once lived no longer applies if they move.
Many doctors will not accept new Medicare patients, nor are they legally required to do so, especially significant if a parent is moving a long distance to be near family in old age.
An adult child with power of attorney can use a parent's money for legitimate expenses and thus hasten the spend-down to Medicaid eligibility. In other words, you are doing your parent no favor—assuming he or she is likely to exhaust personal financial resources—by paying rent, stocking the refrigerator, buying clothes, or taking him or her to the hairdresser or barber.

About the Author
---
Jane Gross was a reporter for "Sports Illustrated"and "Newsday" before joining "The New York Times" in 1978. Her twenty-nine-year tenure there included national assignments as well as coverage of aging. In 2008, she launched a blog for the "Times" called "The""New Old Age, " to which she still contributes. She has taught journalism at the University of California, Berkeley, and at Columbia University, and was the recipient of a John S. Knight Fellowship. She lives in Westchester County, New York.
Praise For…
---
"A forthright story and trenchant advice . . . Gross's chronicle of her mother's decline is intimate and affecting, and her advice to readers is insightful . . . A Bittersweet Season manages to send its voice aloft, its two parts harmonizing in sorrowful, haunting song."
            -Annie Murphy Hall, The New York Times Book Review
 
"[Gross is] an incisive reporter with a fine eye for detail . . . A Bittersweet Season is sure to become required reading for anyone with an elderly parent who depends on long-term care."
            -Associated Press
 
"This is tough stuff, and Gross writes movingly about the toll it takes on her and other caregivers. Although her tone is often darkly humorous, she's serious about documenting the often hidden workload borne by middle-aged daughters and sons."
            -Kate Tuttle, Boston Globe
 
"Nothing can fully prepare you for the overwhelming experience of caring for your elderly parents, but Jane Gross's new book, A Bittersweet Season, comes awfully close . . . Gross is an incisive critic of our systems and institutions."
            -David Takami, The Seattle Times
 
"An invaluable guide . . . One thing is for certain: Individuals, families, medical professionals, and our society's institutions have a pressing moral duty to reform our failing systems of care for the fragile old and dying. Jane Gross's excellent book can help us do better on all these fronts. Middle-aged adult children can read with their parents and help prepare themselves and each other for the inevitable. Families can be encouraged to have those difficult conversations. Jane Gross has taken her own painful experiences and worked hard to give needed help to us all."
            -Sidney Callahan, Commonweal
 
"A Bittersweet Season is sure to become required reading for anyone with an elderly parent who depends on long-term care . . . The time to read the book is before the crises begin to mount."
            -Winston-Salem Journal
 
"Accessible and always compassionate . . . Readers may pick up this very well-written book to learn about taking care of their own ailing parents, but will soon realize that it's also a wake-up call to become educated in order to make informed decisions about their own inevitable aging."
            -Sandee Brawarsky, The New York Jewish Week
 
"Poignant . . . Both heartwarming and heartrending."
            -Edith Paller, Haaretz
 
"Smart and highly detailed."
            -Meredith Resnick, Psychology Today
 
 "In A Bittersweet Season, Jane Gross combines her unique perspectives as a health journalist, daughter and caregiver to unflinchingly explore the last phases of her mother's life and death. Interwoven with this inspiring personal narrative are practical, hard to access, vitally useful lessons and information she learned along the way. One way or another the issues and circumstances vividly portrayed in this book will be faced by us all, so we would do well to use it to help us contemplate the inevitable and prepare as best we can."
-Timothy Quill, M.D., author of Caring for Patients at the End of Life
 
"Jane Gross deftly weaves the story of her mother's final days with a moving account of the toll that takes on her life and the life of her brother and the lessons learned along the way.  Hers is an indispensable handbook for anyone facing the prospect of caring for an aged parent."
-John Darnton, author of Almost a Family
 
"Few of us were raised, much less educated, to care for our parents at the end of life. Now that need has become commonplace, opening the door to a demanding and complex duty. Jane Gross tells us the story of the struggle she had in caring for her dying mother. It is moving and at times wrenching, but as a resourceful and probing journalist she puts her story in the larger context of how we organize health care in this country, what science is coming to know about aging, and how as individuals and institutions we can meet the challenge in ways both wise and loving. It is a book equally touching and informative, a rare combination."
            -Daniel Callahan, author of Taming the Beloved Beast
 
"A Bittersweet Season is a brave and compelling book by a masterful storyteller."
            -Carol Levine, director, Families and Health Care Project, United Hospital Fund
 
"In A Bittersweet Season Jane Gross has produced a deeply felt and beautifully written account of a journey to the emotional center of caregiving—one backed by thousands of readers' confirming details from her New York Times New Old Age blog and her outstanding capacity as a journalist to distill experts' knowledge of aging and late life caring."
-Dennis McCullough, M.D., author of My Mother, Your Mother
 
"Hugely informative, and a gripping read."
            -Betty Rollin, author of Last Wish
 
"Jane Gross's book tells us that taking care of our aging parents will be emotionally demanding and potentially very expensive.  In a time of financial crisis, Washington is telling us not to count on it for help. This book is an invaluable and comprehensive primer on what most Americans will face soon.  Its honest and loving message is to prepare yourself now."
            -Jeff Madrick, author of Age of Greed
 
"With great insight and empathy, Jane Gross guides us through one of the most difficult of all life transitions—the decline and death of our parents. Not only does she provide a wonderfully helpful guide for how and what to do, and when. She also enables us to understand what our parents need, and what we ourselves need, during this passage. When the old roles reverse—as we take care of them instead of them taking care of us—we're likely to face deep challenges, as well as final opportunities for love."
-Robert B. Reich, author of Aftershock
 
"Jane Gross's journey as child of an aging and ill parent is one that too many of us will be making. How wonderful to have her mix of sage advice, pithy insights and practical discoveries at hand when and if that time comes. A Bittersweet Season is a unique and lovely book."
-Abraham Verghese, author of Cutting for Stone 
 
"A Bittersweet Season deals with a sobering topic. But the narrative is so lively and informative that readers will come away feeling more prepared than pessimistic . . . An intelligent guide to handling the onset of old age with sagacity and sensitivity."
            -John Slania, BookPage
 
"Old folks—the fastest-growing demographic of all—are indeed a problem, particularly for their Boomer kids . . . Problems like [ours] need a good, big, authoritative book, and here it is: A Bittersweet Season."
            -Ann La Farge, Hudson Valley News
 
"This remarkable book tackles difficult subjects with aplomb . . . A Bittersweet Season could be called a love story. While Ms. Gross freely admits the flaws in her family's relationships, she also chronicles how a previously loosely woven connection becomes strengthened by time and trial. Reading this book and applying its lessons affords the reader an opportunity to better know and understand their parents and to prepare for the inevitable aging process."
            -Phyllis Hanlon, TOS50.com
 
"I raced through A Bittersweet Season in three days . . . I couldn't put it down. Every page held valuable, practical, unexpected information."
            -Pamela Kelley, Alzheimer's Reading Room
 
"Gross's tone is straightforward, but not cold or clinical, when she shares the heartbreaking story of her aging mother, who died in a nursing home. With well-written and researched prose, Gross debunks misconceptions about assisted-living facilities and offers eye-opening anecdotes about Medicare and Medicaid, including how her own upper-middle-class mother ended up on Medicaid and virtually penniless due to health-care costs. The author also gives gentle guidance for understanding the biology and psychology of aging and ways the adult child can best help the parent . . . With a poignant, honest voice, the author recalls her mother's suffering. This book will remind readers that quality-of-life issues are important, and will hopefully prompt those types of discussions. There are no easy answers here, because there are none. A thought-provoking resource for end-of-life care."
            -Kirkus
 
"A heart-wrenching story and an informative guide for those caring for aging parents."
            -Booklist