Once on a Moonless Night (Hardcover)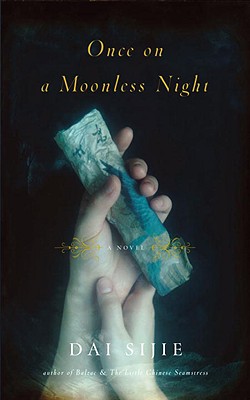 Description
---
From the author of the beloved best seller Balzac and the Little Chinese Seamstress, a haunting tale of love and of the beguiling power of a lost language.

When Puyi, the last emperor, was exiled to Manchuria in the early 1930s, it is said that he carried an eight-hundred-year-old silk scroll inscribed with a lost sutra composed by the Buddha. Eventually the scroll would be sold illicitly to an eccentric French linguist named Paul d'Ampere, in a transaction that would land him in prison, where he would devote his life to studying the ineffably beautiful ancient language of the forgotten text.

Our unnamed narrator, a Western student in China in the 1970s, hears this story from the greengrocer Tumchooq—his name the same as that of the language in which the scroll is written—who has recently returned from three years of reeducation. She will come again and again to Tumchooq's shop near the gates of the Forbidden City, drawn by the young man and his stories of an estranged father. But when d'Ampere is killed in prison, Tumchooq disappears, abandoning the narrator, now pregnant with his child. And it is she, going in search of her lost love, who will at last find the missing scroll and discover the truth of the Buddha's lesson that begins "Once on a moonless night . . ." in this story that carries us across the breadth of China's past, the myth and the reality.
About the Author
---
Born in China in 1954, "Dai""Sijie" is a filmmaker and novelist. He left China in 1984 for France, where he now lives and works. He is the author of the international best seller "Balzac and the Little Chinese Seamstress" (short-listed for the Independent Foreign Fiction Prize in the United Kingdom and made into a film) and of "Mr. Muo's Travelling Couch" (winner of the Prix Femina).
Praise For…
---
ACCLAIM FOR DAI SIJIE'S ONCE ON A MOONLESS NIGHT:

"[a] strange and beautiful novel….[Dai] has an outrageously fertile imagination and a fine instinct for absurdist tragicomedy….The euphonious sounds of the prose (gracefully translated from the French by Adriana Hunter), together with the sensory impressions they unleash, reinforce the book's message that language can offer mesmerizing pleasures."
 - New York Times Book Review
 
"Dai Sijie…assembles an intricate and affecting legend of love, loss, and intellectual obsession….the sensual descriptive ornamentation…most enchants, as the author's imagination ranges for Beijing's teeming market stalls to a remote prison camp and from an austere Burmese monastery to the luxurious decadence of an emperor's bath."
- Amanda Heller, The Boston Globe

"If you see a book with the name Dai Sijie on it, read the book…. His best – and most dense – novel…. Attempting to decipher the many narrative threads in the story is no small feat, but well worth the challenge…. Dai's multilayered masterpieces, however, is far more complex – and rewarding – than a simple love story. With deft mastery, Dai seamlessly combines unexpected representations of the written word….to create an intricate treatise on the power of language."
- Terry Hong, San Francisco Chronicle
 
"At its heart the novel crafts an ode to the power of language."
- National Geographic Traveler

"filled with twists and turn of fate, back stories, symbolism and intersections of politics and religion worthy of a Dan Brown novel…. Dai adds layer upon layer of meaning…. [Once Upon a Moonless Night] pulls the reader along, as does the language, which is pungent and immediate. And as for the scroll itself: this is one mystery, one message, that really makes it worth reading until the last lines of a novel to discover."
- Peter Gordon, UPI Asia
  
"Complex and well written historical novel…grips the audience thoroughly with its poetic look back in time."
- Harriet Klausner, Mainstream Fiction

"Sijie's breathtaking story shows the beauty and horrors that make up China's history while the poetry of Sijie's words is revealed in Hunter's magnificent translation. It's fitting that a story of a love affair with language should be written so beautifully."
- Publisher's Weekly (starred review)

"[B]ewitching….As impressionistically historical as it is imaginative, Dai's dreamlike tale of epic quests and love put to the test is exquisitely structured to illuminate 'Hell, the earthly world, and Paradise' within the Forbidden City, a Chinese prison camp, Paris, Mali, and Burma. Dai's dazzling and magical saga intimates that language is transcendent; books are precious; translation is a noble art; stories are the key to freedom; and truth prevails."
- Donna Seaman, Booklist  (starred review)

"magisterial….structurally more complex than his international hit, Balzac and the Little Chinese Seamstress….just as rich and evocative and powerfully delivers the idea that lnaguage (even more than literature, as in Balzac) truly defines us. This should be almost as big as Balzac. Highly recommended."
- Barbara Hoffert, Library Journal (starred review)


From the first British reviews:
"beautifully written (and translated)"
- Aamer Hussein, The Independent

"rich and ambitious….Sijie makes virtuosic use of the stories-within-stories technique which is so attractive to contemporary sensibilities and paints a vivid portrait of both imperial excesses and communist absurdities."
- Michael Arditti, Daily Mail

"cunning literary confection, blending history, romance, a long-lost manuscript and the magic of the Orient….[an] elegant web."
- Max Davidson, The Mail on Sunday

"a potent and evocative modern-day fable."
- Alastair Mabbott, The Herald (Glasgow)

"Sijie's ambitious work spans a thousand years of Chinese history….[with] a rich repository of tales, traditions and sensibilities [the book's] theme of indeterminacy of meaning is braided into the clash between East and West….Sijie has a gift for the spectacular."
- Chitralekhua Basu, Times Literary Supplement

"an unlikely love affair twists and turns through Dai's story….but it is the stops along the way, in which we visit the lost and unforgiven of Chinese history, that give the novel its real meaning….the knotty truths of China' s past are habitually ironed out by 'official' historiography, whether it is compiled by the communists or shot in Technicolor by western filmmakers. The result is a collective memory shot through with holes, and Dai's pantheon of anti-heroes and forgotten souls is an attempt to patch the gaps….Once on a Moonless Night evokes the past with all the eerie clarity of a dream, its outlines blurred, but every tiny, telling detail extraordinarily alive. Anyone in search of a brief history of China would do well to begin right here."
- Margaret Hillenbrand, Financial Times

"Once on a Moonless Night takes the reader deeper, into stories within stories and myths within myths about China's real and imaginary past….Startling undercurrents sway this mysterious narrative: Dai Sijie's inventiveness enfolds it in some extreme stories….show how language, which we (and many modern Chinese) think of as free, may be treacherous and incomplete….this shy, complex novel, which speaks its concerns so quietly, remains a forceful lament, infused with incident and dramatic storytelling."
- Julian Evans, The Daily Telegraph

"Dai Sijie is a wonderful storyteller….Once on a Moonless Night is full of tales within tales and worlds within worlds, ranging from ancient Chinese empires through communist China to modern Beijing….Everything in all these interwoven tales is extreme, from intellectual obsession to the cruelty of empresses, from the mountain landscapes to cabbages….Sijie writes wonderful descriptions….There is always a sense of the pressure of numbers of people and things, which seems to provoke in the characters a ferocious determination to be individuals, to make their own fates, single-mindedly. Places and events are shocking….the reader feels a readerly excitement, even pleasure, as he or she is swept along from disaster to disaster."
- As Byatt, The Guardian

"remarkable….the detail of the novel is so enthralling, the descriptions of old Peking so vivid, the picture of the labour camp and the lives of the wretched prisoners so compelling — worthy to set beside Solzhenitsyn's portrayal of the Gulag….an evocation of lost civilizations, of the artistic inheritance of China, and of Buddhist philosophy. For the Western reader this is as magical as it is strange….Its evocation of the distant world of devoted Chinese scholarship and dying artistry is lovingly and enchantingly done, while the contrast with the brutal politics of Communist China and its contempt for decency and human life is as memorable as it is disturbing. It's a novel which demands effort from the reader, but the effort is richly rewarded."
- Allan Massie, The Scotsman


Praise from France:
"Erudite, complex, ambitious, the best novel by the celebrated Dai Sijie....a sophisticated and urgent book."
- Livres Hebdo

"an homage to language…an erudite novel filled with poetry...and wit"
- Le Figaro

"Throughout the book, Dai Sijie mixes the splendor, culture and scholarship of…ancient China with the horror of contemporary China."
- Le Quotidien

"A beautiful meditation on language and man."
- La vie