Due Considerations: Essays and Criticism (Hardcover)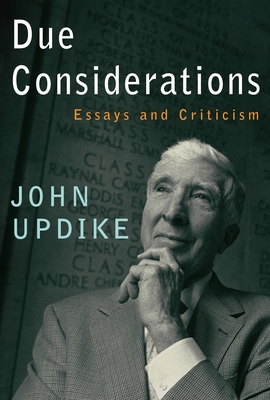 Description
---
John Updike's sixth collection of essays and literary criticism opens with a skeptical overview of literary biographies, proceeds to five essays on topics ranging from China and small change to faith and late works, and takes up, under the heading "General Considerations," books, poker, cars, and the American libido. The last, informal section of Due Considerations assembles more or less autobiographical pieces--reminiscences, friendly forewords, comments on the author's own recent works, responses to probing questions.
In between, many books are considered, some in introductions--to such classics as Walden, The Portrait of a Lady, and The Mabinogion--and many more in reviews, usually for The New Yorker. Ralph Waldo Emerson and the five Biblical books of Moses come in for appraisal, along with Uncle Tom's Cabin and The Wizard of Oz. Contemporary American and English writers--Colson Whitehead, E. L. Doctorow, Don DeLillo, Norman Rush, William Trevor, A. S. Byatt, Muriel Spark, Ian McEwan--receive attentive and appreciative reviews, as do Rohinton Mistry, Salman Rushdie, Peter Carey, Margaret Atwood, Gabriel Garcia Marquez, Haruki Murakami, Gunter Grass, and Orhan Pamuk. In factual waters, Mr. Updike ponders the sinking of the Lusitania and the "unsinkable career" of Coco Chanel, the adventures of Lord Byron and Iris Murdoch, the sexual revolution and the advent of female Biblical scholars, and biographies of Robert Frost, Sinclair Lewis, Marcel Proust, and Soren Kierkegaard.
Reading Due Considerations is like taking a cruise that calls at many ports with a witty, sensitive, and articulate guide aboard--a voyage not to be missed.
About the Author
---
John Updike was born in 1932, in Shillington, Pennsylvania. He graduated from Harvard College in 1954, and spent a year in Oxford, England, at the Ruskin School of Drawing and Fine Art. From 1955 to 1957 he was a member of the staff of The New Yorker, and since 1957 has lived in Massachusetts. He is the father of four children and the author of more than fifty books, including collections of short stories, poems, essays, and criticism. His novels have won the Pulitzer Prize (twice), the National Book Award, the National Book Critics Circle Award, the Rosenthal Award, and the Howells Medal. A previous collection of essays, Hugging the Shore, received the 1983 National Book Critics Circle Award for criticism.
Praise For…
---
"Updike's scope is rather breathtaking. . . . When I do not know the subject well—as in his finely illustrated art reviews of Bruegel, Dürer and Goya—I learn much from what Updike has to impart. When he considers an author I love, like Proust or Czeslaw Milosz, I often find myself appreciating familiar things in a new way."—Christopher Hitchens, The New York Times Book Review
 
"If the printed word disappeared, a future race could reconstruct a significant body of nineteenth- and twentieth-century literature from Updike's work alone. . . . He writes to converse with us on a high plane but in simple language, often stately and sometimes dazzling."—Chicago Sun-Times
 
"Updike knows more about literature than almost anyone. . . . He's beyond knowledgeable—he makes Google look wanting."—Baltimore Sun