Backing Into Forward: A Memoir (Paperback)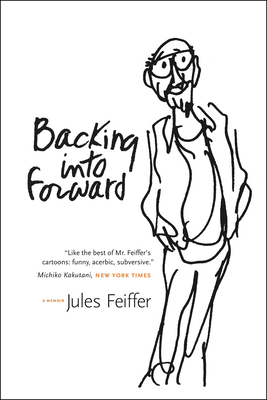 Please email or write store for pricing and availability information.
Description
---
Subversive, funny, and effortlessly droll, Jules Feiffer's cartoons were all over New York in the 1960s and 70s featured in the "Village Voice," but also cut out and pinned to bulletin boards in offices and on refrigerators at home. Feiffer describes himself as lucking into the zeitgeist, and there's some truth to the sentiment; Feiffer's brand of satire reflected Americans ambivalence about the Vietnam War, changing social mores, and much more.
Feiffer's memoir, "Backing into Forward," like his cartoons, is sharply perceptive with a distinctive bite of mordant humor. Beginning with his childhood in Brooklyn, Feiffer paints a picture of a troubled kid with an overbearing mother and a host of crippling anxieties. From there, he discusses his apprenticeship with his hero, Will Eisner, and his time serving in the military during the Korean War, which saw him both feigning a breakdown and penning a cartoon narrative called Munro that solidified his distinctive aesthetic as an artist. While Feiffer's voice grounds the book, the sheer scope of his artistic accomplishment, from his cartoons turning up in the "New Yorker," "Playboy," and the "Nation" to his plays and film scripts, is remarkable and keeps the narrative bouncing along at a speedy clip. A compelling combination of a natural sense of humor and a ruthless dedication to authenticity, "Backing into Forward" is full of wit and verve, often moving but never sentimental.
Jules Feiffer's original and neurotic voice. . . . reinvented comics in the 1950s and made possible what's now called the graphic novel. His engaging new memoir is told in that same witty and perceptive New York cadence, mellowed and laced with wisdom. He's an inspiration. Art Spiegelman.
About the Author
---
Jules Feiffer is a cartoonist, playwright, screenwriter, and children s book author and illustrator. He has taught at the Yale School of Drama, Northwestern University, and Dartmouth College, and currently teaches at Stony Brook Southampton College. Over the course of his career, he has won a Pulitzer Prize and a George Polk Award for his cartoons; an Obie for his plays; an Academy Award for the animation of his cartoon satire, "Munro"; and Lifetime Achievement Awards from the Writers Guild of American and the National Cartoonist Society."