P.K. Pinkerton and the Petrified Man (Paperback)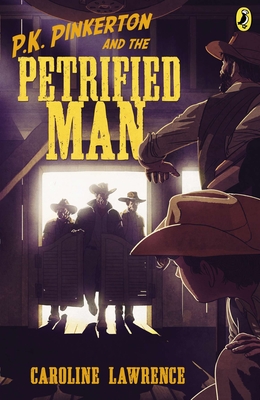 $7.99
Usually Ships in 1-5 Days
Description
---
The second book in a rip-roaring adventure series set in the wild west
After escaping the ruthless desperados, P.K. finally feels safe in Virginia City and is ready to set up a new private eye business. But all the mysteries in town seem to be pranks--until the day P.K. meets a young maid named Martha. Martha's employer has been found dead . . . and now the killer is after her. The mystery takes a grave turn when Martha disappears, so P.K. consults Poker Face Jace, an expert at people reading. With his help, P.K. inspects saloons and billiard rooms, and even tries sneaking into the coroner's office. But time is quickly running out for P.K., and Martha's life has never been in more danger.
About the Author
---
Caroline Lawrence is an English/American author who was born in London and grew up in Bakersfield, California. Caroline currently lives in London, England.
Praise For…
---
Praise for P.K. Pinkerton and the Petrified Man

*"As in the last Wild West adventure, our half-Lakota hero records his suspenseful story on ledger sheets and struggles with his "Thorn"—his inability to show or read emotion that today might be called high-functioning autism. P.K.'s straight-shooting personality, integrity and good heart make readers want to follow him to the ends of the Earth . . . A warm, wise, wild and woolly second offering."--Kirkus Reviews (starred review)

*This entertaining, absorbing sequel will hook readers from the get-go, and Lawrence sets up intriguing ambiguities and mysteries for P.K.'s sure-to-be-anticipated next adventure. An appended glossary includes real-life people, places, and events referenced throughout."--Booklist (starred review)


"Infused with humor and fast-paced action, this slightly gritty mystery has a satisfying resolution, making it an enjoyable historical romp."--School Library Journal

"The story unfolds quickly with numerous twists and turns propelled by cliffhangers at the end of each chapter. In addition, the narrative often summarizes events, which, because of many complications and characters, is useful rather than tedious. Prior knowledge from the first book is helpful, but not critical. P.K. has several personal challenges, particularly those stemming from an Asperger's-like syndrome that renders him unable to read faces or recognize tone. But what isn't hampered is his most important skill: like his friend Sam Clemens, P.K. knows how to spin a great yarn."--The Horn Book