The Age of Edison: Electric Light and the Invention of Modern America (Paperback)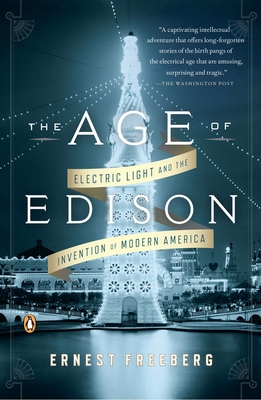 Description
---
A sweeping history of the electric light revolution and the birth of modern America
The late nineteenth century was a period of explosive technological creativity, but more than any other invention, Thomas Edison's incandescent light bulb marked the arrival of modernity, transforming its inventor into a mythic figure and avatar of an era. In The Age of Edison, award-winning author and historian Ernest Freeberg weaves a narrative that reaches from Coney Island and Broadway to the tiniest towns of rural America, tracing the progress of electric light through the reactions of everyone who saw it and capturing the wonder Edison's invention inspired. It is a quintessentially American story of ingenuity, ambition, and possibility in which the greater forces of progress and change are made by one of our most humble and ubiquitous objects.
About the Author
---
Ernest Freeberg is the author of The Education of Laura Bridgman and Democracy's Prisoner, which was a Los Angeles Times Book Prize finalist. He is a distinguished professor of humanities at the University of Tennessee and lives in Knoxville, Tennessee.