The Wicked Girls (Paperback)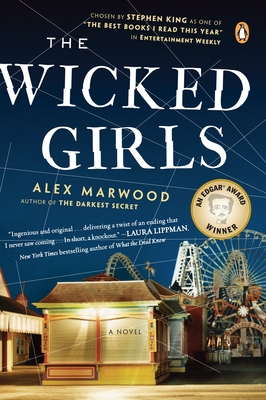 $16.00
Usually Ships in 1-5 Days
Description
---
The suspense keeps the pages flying, but what sets this one apart is the palpable sense of onrushing doom. Stephen King, The Best Books I Read This Year
Alex Marwood's new book, The Darkest Secret, is available now from Penguin Books
The Edgar Award-winning psychological thriller that asks the question how well can you know anyone?
On a fateful summer morning in 1986, two eleven-year-old girls meet for the first time. By the end of the day, they will both be charged with murder. Twenty-five years later, journalist Kirsty Lindsay is reporting on a series of sickening attacks on young female tourists in a seaside vacation town when her investigation leads her to interview carnival cleaner Amber Gordon. For Kirsty and Amber, it's the first time they ve seen each other since that dark day so many years ago. Now with new, vastly different lives and unknowing families to protect will they really be able to keep their wicked secret hidden?
Gripping and fast-paced, with an ending that will stay with you long after you ve read it,
The Wicked Girls
takes you to a thrillingly dark place you ve never been before. For fans ofGillian Flynn, Liane Moriarty, and Tana French.

The Wicked Girlsis ingenious and original. Real, chilling, true to its world and its characters. In short, a knock-out. Laura Lippman, New York Timesbestselling author ofAnd When She Was GoodandWhat the Dead Know
About the Author
---
Alex Marwoodis the pseudonym of a journalist who has worked extensively across the British press. Her first novel, The Wicked Girls, won the Edgar Award for Best Paperback Original, and was nominated for the Macavity Award for Best Mystery Novel and the Anthony and ITW Awards for Best Paperback Original.The Killer Next Door, her second novel, won a Macavity Award for Best Mystery Novel, was nominated for the Anthony and Barry, and has been optioned for film by James Franco and Ahna O Reilly. Her third novel, The Darkest Secret, was published in 2016. Marwood lives in south London."
Praise For…
---
"The suspense keeps the pages flying, but what sets this one apart is the palpable sense of onrushing doom." – Stephen King, "The Best Books I Read This Year", Entertainment Weekly 

"Harrowing… while the received wisdom on violence committed by children seems to be that 'some people just are born evil,' Marwood makes a strong case that these crimes are more likely rooted in poverty, abuse and parental abandonment." – Marilyn Stasio, The New York Time Book Review
 
"The swirling mass of perceptions and happenings behind the main drama of Kirsty and Amber's past crime is what makes The Wicked Girls more than a plot-driven mystery novel. (Not that it isn't also that; Marwood sacrifices no speed, no engaging details or cliffhangers for the sake of the book's spiky undercurrent)." – The Rumpus

"In addition to being an excellent intelligent dark thriller in the vein of Gillian Flynn, The Wicked Girls presents an intriguing insider's account of salacious British tabloid journalism" – BoingBoing
  
"[Alex] Marwood is equally at home with terrifying, potentially violent scenes and quieter ones revealing the tensions of work and family life. She is also adept at depicting the subtle and not so subtle ways differences in class shape the lives of the girls and the women they've become."—Columbus Dispatch

"The pacing is whip-smart…The Wicked Girls makes a compelling novel not easily forgotten." – South Florida Sun Sentinel

"Riveting from first page to last… A suspenseful, buzz-worthy novel." – Kirkus (Starred Review)

"If Tana French and Gillian Flynn stayed up all night telling stories at an abandoned amusement park, this is awfully close to what they might come up with." – Booklist (starred review)
   
"The Wicked Girls is ingenious and original -- a novel that surprises and rewards its readers, delivering a twist of an ending that I never saw coming, then realized it was the only ending that could truly satisfy. Real, chilling, true to its world and its characters. In short, a knock-out."—Laura Lippman, New York Times bestselling author of And When She Was Good and What the Dead Know

"The Wicked Girls is utterly compelling. It's psychologically rich, complex and masterfully plotted. I couldn't put it down, even when I sensed it was taking me somewhere very dark indeed. I can't wait to see what Alex Marwood comes up with next."—Jojo Moyes, New York Times bestselling author of Me Before You