My Name Is Mary Sutter (Paperback)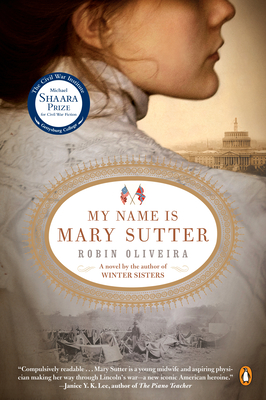 $16.00
Usually Ships in 1-5 Days
August 2012 Indie Next List
---
"On the eve of the Civil War, Albany midwife Mary Sutter desperately wants to be a surgeon. When Dorothea Dix puts out a call for nurses, Mary leaves her family behind and rushes to Washington. Told from the point of view of nurses, family members, and politicians, this novel is an enthralling, exquisitely crafted debut, a story for lovers of historical fiction as well as anyone who believes in the power of the human spirit."
— Erin Kurup, Book House of Stuyvesant Plaza, Albany, NY
May 2010 Indie Next List
---
"On the eve of the Civil War, Albany midwife Mary Sutter desperately wants to be a surgeon. When Dorothea Dix puts out a call for nurses, Mary leaves her family behind and rushes to Washington. Told from the point of view of nurses, family members, and politicians, this novel is an enthralling, exquisitely crafted debut, a story for lovers of historical fiction as well as anyone who believes in the power of the human spirit."
— Erin Kurup, Book House of Stuyvesant Plaza, Albany, NY
Description
---
A New York Times bestseller and a moving Civil War novel about a young midwife who dreams of becoming a surgeon
Chosen by Good Housekeeping as a Top 10 -Good Read-
Fans of Caleb's Crossing by Geraldine Brooks, Cold Mountain by Charles Frazier, and Mrs. Lincoln's Dressmaker by Jennifer Chiaverini will love this New York Times bestselling tale of the Civil War. Mary Sutter is a brilliant young midwife who dreams of becoming a surgeon. Eager to run away from recent heartbreak, Mary travels to Washington, D.C., to help tend the legions of Civil War wounded. Under the guidance of two surgeons, who both fall unwittingly in love with her, and resisting her mother's pleas to return home to help with the difficult birth of her twin sister's baby, Mary pursues her medical career against all odds. Rich with historical detail - including cameo appearances by Abraham Lincoln and Dorothea Dix, among others - My Name Is Mary Sutter is certain to be recognized as one of the great novels about the Civil War.
About the Author
---
Robin Oliveira holds a BA in Russian, and studied at the Pushkin Language Institute in Moscow. She received an MFA in writing from Vermont College of Fine Arts and is also a registered nurse, specializing in critical care. She lives in Seattle, Washington. The New York Times bestseller My Name Is Mary Sutter is her first novel.