Rob Roy (Paperback)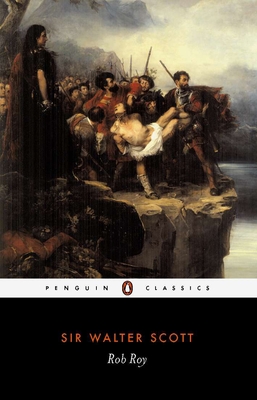 $13.00
Usually Ships in 1-5 Days
Description
---
When young Francis Osbaldistone discovers that his vicious and scheming cousin Rashleigh has designs both on his father's business and his beloved Diana Vernon, he turns in desperation to Rob Roy for help. Chieftain of the MacGregor clan, Rob Roy is a brave and fearless man, able and cunning. But he is also an outlaw with a price on his head, and as he and Francis join forces to pursue Rashleigh, he is constantly aware that he, too, is being pursued--and could be captured at any moment. Set on the eve of the 1715 Jacobite uprising, Rob Roy brilliantly evokes a Scotland on the verge of rebellion, blending historical fact and a novelist's imagination to create an incomparable portrait of intrigue, rivalry and romance.
For more than seventy years, Penguin has been the leading publisher of classic literature in the English-speaking world. With more than 1,700 titles, Penguin Classics represents a global bookshelf of the best works throughout history and across genres and disciplines. Readers trust the series to provide authoritative texts enhanced by introductions and notes by distinguished scholars and contemporary authors, as well as up-to-date translations by award-winning translators.
About the Author
---
Sir Walter Scott (1771-1832) was born in Edinburgh. Educated for the law, he obtained the office of sheriff-depute of Selkirkshire in 1799 and in 1806 the office of clerk of session, a post whose duties he fulfilled for some twenty-five years. His lifelong interest in Scottish antiquity and the ballads which recorded Scottish history led him to try his hand at narrative poems of adventure and action. The Lay of the Last Minstrel (1805), Marmion (1808), and The Lady of the Lake(1810) made his reputation as one of the leading poets of his time. A novel, Waverley, which he had begun in 1805, was published anonymously in 1814. Subsequent novels appeared with the note "by the author of Waverley"; hence his novels often are called collectively "the Waverley novels." Some of the most famous of these are Old Mortality (1816), Rob Roy (1817), Ivanhoe (1819), Kenilworth (1821), and Quentin Durward (1823). In recognition of his literary work Scott was made a baronet in 1819. During his last years he held various official positions and published biographies, editions of Swift and Dryden, tales, lyric poetry, and various studies of history and antiquity.