A Judgement in Stone (Mass Market Paperback)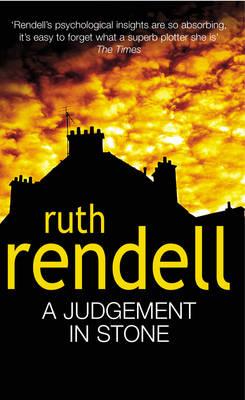 Description
---
What on earth could have provoked a modern day St. Valentine's Day massacre?

On Valentine's Day, four members of the Coverdale family -- George, Jacqueline, Melinda and Giles -- were murdered in the space of 15 minutes. Their housekeeper, Eunice Parchman, shot them, one by one, in the blue light of a televised performance of Don Giovanni. When Detective Chief Superintendent William Vetch arrests Miss Parchman two weeks later, he discovers a second tragedy: the key to the Valentine's Day massacre hidden within a private humiliation Eunice Parchman has guarded all her life.  A brilliant rendering of character, motive, and the heady discovery of truth, A Judgement in Stone is among Ruth Rendell's finest psychological thrillers.
About the Author
---
Ruth Rendell has won numerous awards, including three Edgars and the Grand Master Award from Mystery Writers of America, and four Gold Daggers, one Silver Dagger, and a Cartier Diamond Dagger for outstanding contribution to the genre from Britain's prestigious Crime Writers' Association. She lives in London.