Go Set a Watchman (Hardcover)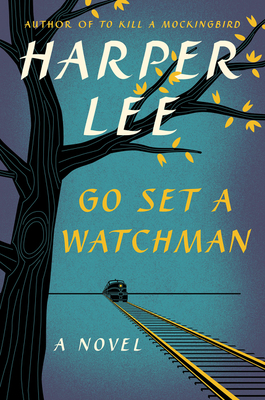 Staff Reviews
---
There will surely be no scarcity of reviews and comments on this book, being what it is. I have no deep insights into literary matters to offer, but there are a few things I think need to be said.
First, far from being a disappointment or letdown, I found this to be delightful on several levels. The characters, the scenes, the landscape all contribute to an atmospheric read that says, "American South". This, of course is aligned with the author's previous work and satisfies in the way that a familiar food or comfortable chair welcomes one. 
There is no shortage of humor, in fact, there is lots of it here. Some scenes will doubtless remind of Mockingbird in their innocent but mischievous motives and performance. Jem, Scout, Dill, Calpurnia and even Atticus appear just as we know them in these passages. This is familiar territory and is happily trod while the new material is doled out in digestible portions. 
Scout is, well, Scout. She is Jean Louise to most everyone now, 26 years old and returning to Maycomb on what is planned to be a two week visit. But her unique world view, her "color blindness" which is the subject of discussion in several parts of the novel, her stubbornness and her courage are all still there, unabated. In this, the reader will not be disappointed.
In fact, if anything, Scout is what we wanted her to be: a strong, opinionated, outspoken freethinker and liberated woman in a time when that term was little known. She's a helluva character and I'm glad she hasn't lost those traits which made her so appealing.
What has changed is what she sees and understands. Much has been said (wailed, in fact) about the revelation the Atticus is not the god-like being we remember. What has been lost in the noise about this disappointment (to some) is that he is a man, plain and simple, with all the faults, flaws, inconsistencies and failings of the rest of us. We learn to know him better before the end of the book, but it's impossible to gainsay that he is less than we expected. That is something of the point. Close reading reveals that while he is clearly influenced by existing mores and motives, as a citizen of the South, he is completely believable. He still believes in justice, but not perhaps in the way we interpreted. That's our fault. He is still honorable, within the borders he has established for himself, nobly so. He is still the calm, loving, forgiving and understanding father to a willful child.
All the rage here is on the part of Scout. She is disappointed, appalled and feels betrayed by the revelation that Atticus has feet of clay. This makes us love her all the more, and for that I am grateful. What we learn about her father does not dismay or depress me: I find that I am more able to understand him now that he is revealed as a mere mortal.
In sum, I enjoyed the book very much. It's funny, insightful, powerful, and reminds us of some things we may have forgotten in the chatter to which we are constantly exposed by the media today. Even the contemporary racial invective is pale compared to the rantings of the 60s racists and separatists. We have a long way to go, but we have come some distance toward justice and equality. So read the book, enjoy it, already. It's fiction. 
— Eric has been a fixture at Tattered Cover for decades and is now a most valued guest blogger
Description
---
A historic literary event: the publication of a newly discovered novel, the earliest known work from Harper Lee, the beloved, bestselling author of the Pulitzer Prize-winning classic, To Kill a Mockingbird.
Originally written in the mid-1950s, Go Set a Watchman was the novel Harper Lee first submitted to her publishers before To Kill a Mockingbird. Assumed to have been lost, the manuscript was discovered in late 2014.
Go Set a Watchman features many of the characters from To Kill a Mockingbird some twenty years later. Returning home to Maycomb to visit her father, Jean Louise Finch--Scout--struggles with issues both personal and political, involving Atticus, society, and the small Alabama town that shaped her.
Exploring how the characters from To Kill a Mockingbird are adjusting to the turbulent events transforming mid-1950s America, Go Set a Watchman casts a fascinating new light on Harper Lee's enduring classic. Moving, funny and compelling, it stands as a magnificent novel in its own right.
Coverage from NPR