Moriarty (Paperback)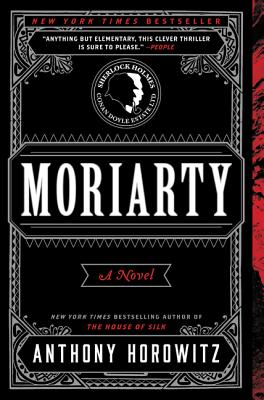 Staff Reviews
---
I'll read pretty much anything that relates to Sherlock Holmes. In this case, my interest paid dividends. Horowitz has penned a marvelous Victorian/Edwardian mystery with the great nemesis as its central theme. I would recommend it without reservations to any lover of Doyle's work.
Frederick Chase, a Pinkerton operative has traveled to England in pursuit of the American counterpart of the "Napoleon of Crime" named Charles Deveraux. He has an extensive underground network of footpads, thugs, cutpurses and assassins mirroring the notorious British criminal mastermind's web. As with M., he is never seen and pulls the strings from the darkness letting his puppets do all the dirty work, and dirty it is. Where the English approach is one of relative refinement, relegating outright violence to those occasions where it is absolutely necessary, Deveraux's minions will employ it at the first opportunity and carry it to outrageous lengths, with the blessings of the master.
Chase encounters Athelney Jones, a minor character in Doyle's stories at Reichenbach Falls, the site of the "Final Solution", reported site of the deaths of both Holmes and Moriarty. What ensues is a hair-raising adventure to discover whether or not the great criminal still lives and whether or not he is allied with the vile American who now seems to hold London in sway. I'll say no more, since the fun is in discovering the tale for one's self.
What I will say is that it is a skillfully crafted whodunit in the grand mold. The language, the landscape, the characters are all worthy of the finest mystery writing. And, in classic fashion, there is a wonderful twist at the end that causes the reader to (figuratively) strike the forehead and say, "I should have known it all along." Highest rating.
— Eric, a fixture at Tattered Cover and one our our most adept book reviewers
December 2014 Indie Next List
---
"I've been reading Sherlock Holmes pastiches for 20 years, but I've never read anything as devious as this! After the famous encounter between Holmes and Moriarty at Reichenbach Falls, Inspector Athelney Jones and Pinkerton Agent Frederick Chase are thrown together to combat the rising shadow of an American crime boss looking to take over Moriarty's empire. Horowitz wisely does not try to imitate Doyle's style, but instead comes up with a unique voice with several parallels to the Holmes and Watson dynamic. As soon as you finish, you'll want to read it again with a new appreciation for Horowitz's masterful plotting. Exquisitely done!"
— Steven Sautter, Books Inc., Palo Alto, CA
Description
---
The game is once again afoot in this thrilling mystery from the bestselling author of The House of Silk, sanctioned by the Conan Doyle estate, which explores what really happened when Sherlock Holmes and his arch nemesis Professor Moriarty tumbled to their doom at the Reichenbach Falls.
Internationally bestselling author Anthony Horowitz's nail-biting new novel plunges us back into the dark and complex world of detective Sherlock Holmes and Moriarty--dubbed the Napoleon of crime" by Holmes--in the aftermath of their fateful struggle at the Reichenbach Falls.
Days after the encounter at the Swiss waterfall, Pinkerton detective agent Frederick Chase arrives in Europe from New York. Moriarty's death has left an immediate, poisonous vacuum in the criminal underworld, and there is no shortage of candidates to take his place--including one particularly fiendish criminal mastermind.
Chase and Scotland Yard Inspector Athelney Jones, a devoted student of Holmes's methods of investigation and deduction originally introduced by Conan Doyle in "The Sign of Four," must forge a path through the darkest corners of England's capital--from the elegant squares of Mayfair to the shadowy wharfs and alleyways of the London Docks--in pursuit of this sinister figure, a man much feared but seldom seen, who is determined to stake his claim as Moriarty's successor.
A riveting, deeply atmospheric tale of murder and menace from one of the only writers to earn the seal of approval from Conan Doyle's estate, Moriarty breathes life into Holmes's dark and fascinating world.