Gutenberg's Apprentice (Paperback)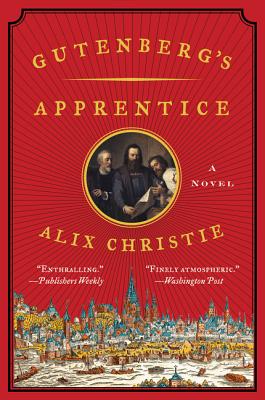 Staff Reviews
---
We all know the story, basically. A man invented movable type and printed the first mass-produced bible. In this meticulously researched and historically rich novel, Alix Christie has given faces to the names and put meat on the bones of what was arguably one of the most important advancements in human development. A fully satisfying experience awaits the reader of this excellent work.
Gutenberg himself was an irascible, egotistic, domineering and driven individual. Peter Schoeffer, his assistant/apprentice/partner dealt with these less-than-endearing traits as would a saint. He would become a master printer and publisher, greatly respected long after Gutenberg's death. Johann Fust, merchant and financial backer of the bible project was tested to the limits of patience by the mercurial and often prevaricating genius. His contributions to the actual selling of the book created patterns that would persist for centuries. History has acknowledged both men but their contributions to the process have been largely forgotten. What they did was make possible and tangible the revolutionary notions hatched in the great man's brain.
The job of creating the machinery and type to achieve the goal took painstaking effort and great patience combined with no little measure of pure faith. The physical exertion to do the actual printing was monumental. The author has recounted this great pioneering technology with great attention to detail. As a history lesson this book offers insights into not just the work of printing but the religion, politics, economics and social customs of the time.
The reader will want to smack Gutenberg for being such a jerk and praise Shchoeffer and Fust for their persistence and commitment. It's an altogether fascinating story, told with great skill. Anyone who loves books should read this. A greater appreciation of what we consider to be an everyday object is sure to emerge.
— Eric Boss, a Tattered Cover fixture for decades and an insatiable reader
October 2014 Indie Next List
---
"This novel about the making of the first printed book, the Gutenberg Bible, is a dramatic and gripping tale of betrayal and intrigue. A young scribe is apprenticed to the visionary and difficult genius Johann Gutenberg at the behest of his father, Gutenberg's financial backer. Tension between genius and finance, between old ways and the new, that is aggravated by threats from the Church and the traditional guilds make for a great read. Christie is a master printer herself, and in Gutenberg's Apprentice she brings a real feeling for the beauty and artistry of printing and honors one of the most revolutionary achievements in history."
— Rod Froke, DIESEL, A Bookstore, Oakland, CA
Description
---
An enthralling literary debut that evokes one of the most momentous events in history, the birth of printing in medieval Germany--a story of invention, intrigue, and betrayal, rich in atmosphere and historical detail, told through the lives of the three men who made it possible.
Youthful, ambitious Peter Schoeffer is on the verge of professional success as a scribe in Paris when his foster father, wealthy merchant and bookseller Johann Fust, summons him home to corrupt, feud-plagued Mainz to meet "a most amazing man."
Johann Gutenberg, a driven and caustic inventor, has devised a revolutionary--and to some, blasphemous--method of bookmaking: a machine he calls a printing press. Fust is financing Gutenberg's workshop and he orders Peter, his adopted son, to become Gutenberg's apprentice. Resentful at having to abandon a prestigious career as a scribe, Peter begins his education in the "darkest art."
As his skill grows, so, too, does his admiration for Gutenberg and his dedication to their daring venture: copies of the Holy Bible. But mechanical difficulties and the crushing power of the Catholic Church threaten their work. As outside forces align against them, Peter finds himself torn between two father figures: the generous Fust, who saved him from poverty after his mother died; and the brilliant, mercurial Gutenberg, who inspires Peter to achieve his own mastery.
Caught between the genius and the merchant, the old ways and the new, Peter and the men he admires must work together to prevail against overwhelming obstacles--a battle that will change history . . . and irrevocably transform them.