Radio Silence (Hardcover)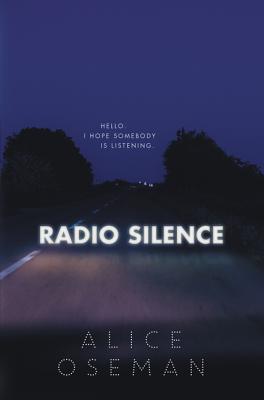 Staff Reviews
---
In a sea of over achieving high schoolers, you're forced to play the game. But it's just not you and you don't know how to identify it. You're a different person when you're not at school, but feel you need to hide it. You're scared to rock the boat. Until you meet your first true friend, which to me is what this novel is all about. Yet, it has so many facets to it: it's contemporary YA, but each chapter begins with a sci-fi-esque podcast, which weaves itself into the story miraculously. It lightly explores sexual identity, touches on diversity, but doesn't disrupt the story. It has an element of mystery and a thriller-like pace, but digs deep. Unique story, chockfull, and will resonate with everyone. One of my fave books of 2017.
— Kristen Gilligan, Co-owner, Tattered Cover
The story follows Frances Janvier as she uncovers who she is and how she can be herself in a life dictated by academia. All because she accidentally befriends Aled Last and gets a chance to be a true friend. I adored the diverse characters and found myself devouring the unique plot that was relatable and modern. An unforgettable journey of friendship and finding oneself through many modern day hardships. I absolutely loved this book and was so impressed with the characters, character development, unique plot, and themes. Again, I completely adored this book.
— Amanda, TC Teen Advisory Board member
Strange, quirky, and wonderful! It's both relationship- and character-based and  I could relate to nerdy school-focused Frances. Aled was a character I've never met before, which is fantastic, I love meeting new people. I didn't expect to love this book as much as I did -- the people you expect to fall in love in this book don't, yet it does have a small bit of romance. Diverse characters, strange adults (and teens) in a contemporary coming of age story: I would highly recommend this book. For fans of Rainbow Rowell or John Green. 
— Librarian, Chatfield Senior High, Littleton, CO
Francis Janvier is a school obsessed, fan art making, guilt ridden girl. Aled Last is the quiet one in the background nobody quite seems to see. You might think the two fall in love, but they don't. They make a sci-fi podcast. This contemporary novel follows the two on their journey of the fandom world, and into university, while they find themselves along the way. Alice Oseman creates an absolutely irresistible story without all the cliches. She captures the modern reality of growing up in a totally real way. The variety of sexualities and realistic character development are just pieces of this book that contribute to the whole, just pieces that make it so good. This is the type of book people can relate to. It's a refreshing read for fans of YA novels looking for something a little out of the ordinary.
— Shyla, TC Teen Advisory Board member
Radio Sience is the kind of book that all pressured, stressed out, worried high school students need to read; believe me, I'm one of them. It's quietly comforting, a silent reassurance that even if you fail all your classes, or break down from the stress, or get rejected from college, that it will eventually be okay. It's almost as personal as a handwritten letter. The author clearly  understands the pressures piled on students, and reminds the reader that our sanity and our happiness is important, more so than our academic achievements, and we shouldn't deprive ourselves of what makes us happy just so that we can get a lucrative career. Radio Sience achieved favorite book status the second I read it, and I'm sure that everyone who reads it will feel as liberated as I did after reading that glorious last sentence: "Hello. I hope somebody is listening..."
— Caylin, Tattered Cover Teen Advisory Board member
Description
---
From critically acclaimed author Alice Oseman comes a smartly crafted contemporary YA novel, perfect for readers who love Rainbow Rowell's Fangirl. This is an utterly captivating and authentic new teen novel from the author of Solitaire, which VOYA said "could put her among the great young adult fiction authors."
Frances Janvier spends most of her time studying.
Everyone knows Aled Last as that quiet boy who gets straight As.
You probably think that they are going to fall in love or something. Since he is a boy and she is a girl.
They don't. They make a podcast.
In a world determined to shut them up, knock them down, and set them on a cookie cutter life path, Frances and Aled struggle to find their voices over the course of one life-changing year. Will they have the courage to show everyone who they really are? Or will they be met with radio silence?